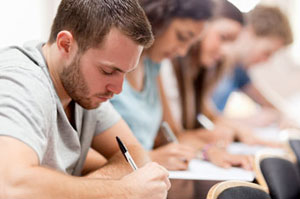 What do students need from the government in 2015? Authorities, experts, higher education sector insiders and pundits can give their opinions. Even politicians will! But the politicians are the ones who really need to know what really students need from the government. They are the ones who will be competing for the students' votes. To win the nod of voting students, competing politicians need to know what do students want from the government and show their commitment to deliver these. And who can best say what students need from the government? The students themselves.
In line with George Osborne's announcement of the introduction of a postgraduate loan system and talk of the power of the student vote in the coming general election in May, the Guardian's Dan Falvey interviewed students regarding what they need from the government. Maybe the politicians can get some hints at what they can do for students and help them get student votes. Here is what students told Mr Falvey.
Affordable Housing
Having a house to live in comes at a cost in which little to none is left for other daily provisions, University of Birmingham's Benedict Churchus says. He relates that little is left from student loans proceeds to cover the rest of the living costs after appropriating for rental expense. He has set aside worrying about his tuition fees because it is directly paid for by the student loan and he can worry about paying it later after graduating and when he already has a job in the future. What troubles him is his day-to-day living. He says that it is a problem that is bigger than the tuition fee loan.
Housing is a true and common problem for students. SOAS student Hannah Davenly says that it is a major issue especially for London-based students. She relates that she pays a monthly £540 rent for what she describes as a "quite-nice-but-small box room in a shared house." Such price is an "extremely good price for London," according to her. She points out that it is certainly impossible to find a cheap accommodation in London. To be able to raise enough money to pay for rent, you need to work long hours on a job while studying, she relates.
However, the London student contends that the government should do something about it. She says that the government can help with the students' housing cost problems by providing students with more affordable housing, increasing the maintenance loan or subsidising housing to cover the cost of rent.
At the same time, the Birmingham student also gave possible solutions. He says that the government should regulate the rates of rent for student houses. He feels that there are several big companies that thrive on student rent. One solution is a rent package for students in which prices for rent and utility costs are ascertained at affordable ranges.
Reforms in Student Finance
The system on which student loans run should be reformed, argues Durham University student Jess Rome. He stresses that not all students can avail of loans in a way that it will provide them with enough funds while such loans being feasibly payable by them when they start earning income after graduation. The government is capping the amount of the loan; thus, limiting how much a student can access regardless of his actual needs, the Durham student says. It is not enough. In reality, the needs exceed the provision.
The Durham student contends that "everyone should be allowed to access the highest level of maintenance loan." Instead of capping the amount a student receives, the government could cap the level at which a student can receive the low interest rates, using the current qualifying system, he argues.
Again, this is another problem that is universal. University of Bath student Beth Vincent also says that change is needed in the system. She feels that the process of how maintenance loans are decided is a little unfair. She is entitled to the minimum loan, but it does not even cover her rent, she points out. She relates that her parents' financial standing does not allow them to give her extra money support and this means that she needs to be very careful with money and even work through years of savings which results to being among the worst-off people at university.
Maintenance loans are means tested, notes Mr Falvey in his report in The Guardian. All students living away from home are entitled to a maximum of £5,555 per year, or £7,751 in London. Those whose household income is less than £25,000, qualify for a government maintenance grant of £3,387 which does not need to be repaid.
Education for Free
One student goes the extra mile and asked for free education. University of East Anglia student Elliot Folan asserts that education is every person's right. That is, or includes, higher education, for him. He says that education appears to be a privilege that should be extended only to rich people. The policy that has tagged education with a price should be scrapped, he can be referred to as saying.
No Screening Fee
Norwich resident Katie Maloney, who is a recent Ucas applicant, says that there is a need to abolish Ucas application fees. For her, charging application screening fees is counterproductive on the part of the government. She contends that the government should see to it that young people who aspire to become university students should not be charged with any fees because the government wants them go to university. She also labels tuition fee levels as "extortionate."
The aspiring university student argues that Ucas fees are one-sided transactions because applicants do not get any value in return for the money they pay. She points out that paying to apply is simply unfair especially because you still have to know whether you will be accepted or not. Ucas application fees are at £12 for one course and £23 for up to five different courses. Maybe the government can start by charging Ucas fees only to successful applications.
Democratic Universities
University of York student Hannah Forsyth says the government should help make the higher education system more democratic. She suggests that vice chancellors and senior management, and their £250,000 annual salaries, should be phased out and replaced with elected posts that will be paid with reasonable compensation. Also, students should be given majority representation on all university committees, she adds.