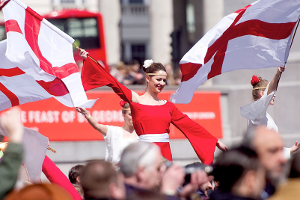 England pays tribute to its patron saint and celebrates St. George's Day on 23rd April. Why is St. George an important icon for the English even though he had never been to England? He was chosen because he represents traditional English valor and chivalry. According to legend, he slayed a dragon to save a princess while he was a soldier in the Roman army. In addition, English soldiers believed to have seen St. George fight with them. His symbol, a red cross on a white background is the official flag of England. It also forms part of the flag of Great Britain.
 St. George's Day Celebrations in England
How are you celebrating this day? If you decide to stay home or celebrate privately, you can prepare a traditional English roast with family and friends. On the other hand, you can go out for fish n' chips and old fashioned British pint. It is a good day to incorporate a bit of literature as this day is also National Shakespeare Day in the UK.
If want to party with large crowds, here are the best places you can head to for St. George's Day:
Feast of St. George at Trafalgar Square.
Get ready for a big shindig that features big names including the Military Wives Choirs and folk singer Ralph McTell. 2013 Masterchef winner Natalie Coleman and British top chef specializing in Italian food Theo Randall will also have cooking demos.
Brum Bands Unite celebrating St. George's
The concert will be held at Birmingham Town Hall, which will be in support for the Justice 4 the 21 campaign for the victims of the Birmingham pub bombings. It will showcase performances from Morganisation, Quill, Vix & her Mischiefs, Steve Gibbons, Bitty McLean, and a lot more.
St. George's Festival at Vauxhall Pleasure Gardens
Instead of the usual festivities featuring parades and music festivals, this event is all about medieval times. Complete with knights in armour, falconers and jesters, it pays tribute to St. George as a dragon slayer. It is a family festival that also showcases the Battle of the Nations for the third London Tournament.
St. George's Day at Borough Market
The celebrations will be about English and Catalan culture, featuring the London Catalan Choir. The Castellers of London will also perform a human-tower act this famous market at the Southwark Street.
Stone Cross St George's Day Parade
Happening in West Bromwich, Birmingham, this is the biggest St. George's Day Parade in the world, attracting 25,000 visitors. It follows a 1.8-mile route starting from Stone Cross and ends at Dartmouth Park. Now on its 20th year, it is led by the British Legion and features music, raffles and auctions.