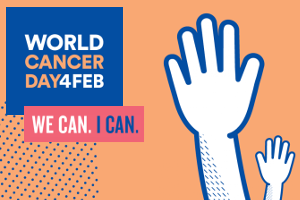 This 4th February, the world will unite in the fight against cancer for World Cancer Day 2018. With the tagline "We can. I can.", the event will examine how everybody, as a collective or an individual, can contribute to lessen the global burden of cancer. It emphasises that all people in their own little way have the power to minimise the impact that cancer has on individuals, families and communities.
According to the World Health Organization, cancer is the second leading cause of death globally that caused approximately 8.8 million deaths in 2015. Through World Cancer Day, everyone can reflect on what he or she can do, starting from making a pledge and then taking action. According to the Union for International Cancer Control's (UICC), "World Cancer Day is a chance to reflect on what you can do, make a pledge and take action. Whatever you choose to do "We can. I can." make a difference to the fight against cancer."
Participate in World Cancer Day 2018
Wherever you are in the world, you are encouraged to participate in World Cancer Day 2018. One simple way is spreading the message on social media through the "Signs for Change." Different signs to take a stand and raise cancer awareness are available for download on the official World Cancer Day website. The use of these hashtags is also encouraged: #WorldCancerDay #WeCanICan. #cancerawareness #cancer
"The Map of Impact" allows anybody to include their World Cancer Day 2018 planned activities on the website to inspire people to organise their own activities or allow them to join events near their area. As of writing, there are already more than 500 planned activities listed.
About World Cancer Day
Founded in 2008, World Cancer Day is an international day held yearly to raise awareness, as well as encourage the prevention, detection and treatment of the deadly disease. The primary goal of this event is to hopefully save millions by significantly lessening illness and death caused by cancer in the year 2020. Aside from raising public awareness, the worldwide campaign also tackles misinformation and reduces stigma.
UICC spearheads the initiative and offers support by providing tools and guidance to its more than 1,000 member organisations in 162 countries to hold local cancer awareness campaigns in line with and tailored to the global World Cancer Day message. The organisation supports traditional, digital and social media opportunities that will raise public awareness.
We at Essay Writer Supports World Cancer Day 2018 and hope all of us do our part in spreading awareness and showing our support to this meaningful international cause.