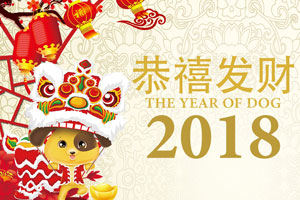 It is time to greet our Chinese friends a Xin Nian Kuai Le today, 16th February.
China and countries with significant Chinese population will be having yet again 15 days of celebrations for Chinese New Year 2018, their most important holiday, as they welcome the Year of the Dog.
Unlike New Year's Eve celebrated every first of January each year by most people around the world, Chinese New Year follows the lunar calendar. It starts on the new moon, which occurs between 21st January and 20th February. The first day of Chinese New Year in 2017 was on 28th January.
Chinese New Year 2018 – Year of the Dog
2018 is the Year of the Dog, specifically the Male Earth Dog, also called the Brown Dog. The Dog is the 11th in the 12-year Chinese zodiac sign cycle. Those who were also born in 1934, 1946, 1958, 1970, 1982, 1994, and 2006 have the Dog zodiac sign.
According to Asian astrology, the year of the birth and the animal it represents influence some of the personality traits of a person. The Dog is considered man's best friend, which is why those who were born in the Year of the Dog are often described as loyal, honest, reliable, expressive, and sincere.
Here is the fortune of people born in the Year of the Dog according to the Chinese Horoscope:
Lucky Signs
Lucky numbers: 3, 4, and 9
Lucky colors: red, green, and purple
Lucky flowers: rose, oncidium and cymbidium orchids
Lucky directions: south, southeast, east
Should be avoided
Unlucky numbers: 1, 6 and 7
Unlucky colours: blue, white and golden
Unlucky direction: north and west
Love
Best match: Rabbit
The Dog and Rabbit are said to be a perfect match because they have similar personalities and common hobbies that make their relationship more fun. They understand each other and patiently face hardships together.
Bad matches: Dragon, Sheep and Rooster
The difference in sense of worth causes conflicts because these zodiacs tend to lack in effective communication and find it difficult to express their inner feelings.
Fortune
Dog people are said to have a year full of challenges especially in terms of their career and financial condition. Failed investments will make money matters more difficult and they would be prone to illnesses due to the stress that work brings. They need to find ways to balance their career and health to be able to endure the challenges.
Whether you believe in horoscopes or not, it is still up to you to strive to have a good year. Hurdles will always be around and you have the power to beat the odds. As the common Cantonese greeting Gong Hei Fat Choy means, Essay Writer wishes all our Chinese friends a prosperous year ahead!