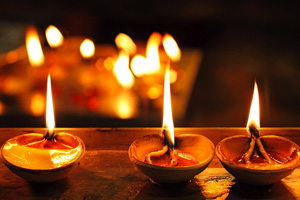 The United Kingdom takes part in celebrating with millions of people the annual Festival of Lights called Diwali. The Hindu lunar calendar indicates that this five-day festivity starts today, 30th November. Houses, establishments and streets will surely be at their brightest and the parties at their liveliest tonight.
What is Diwali?
The word Diwali, also known as Deepavali in Sanskrit, means row of lighted lamps. Originating in India, this event is celebrated not just by Hindus but by Sikhs, Buddhists and Jains for varying reasons. The decorating of colourful lights and candles symbolises the triumph over darkness. It also means victory of good over evil, hope over misery and knowledge over ignorance.
Hindus look back to the time god Rama returned to the mythological island of Lanka after a 14-year exile. He rescued his wife Sita and defeated her captor, the demon King Ravana. Large fireworks are set off to signify this victory.
Deepvali mainly honours the goddess of wealth Lakshmi, the reason why the event also marks the new business year. People say prayers and implore for a prosperous year and a bright future. As one of the most significant festivals in Indian culture, it coincides with the busiest shopping time of the year in India. Diyas or traditional earthenware oil lamps are lit to help Lakshmi find her way to people's homes. Doors and windows of houses are left open to welcome her.
For Sikhs, the festival symbolises Bandi Chhor Diva instead of the Rama victory. This was the time when political prisoner Guru Har Gobind was released from jail. He managed to reach the Golden Temple in Amritsar, which is one of their holiest sites.
Celebrating Diwali in the UK
Modern celebrations include creating rangoli artworks which are basically patterns made from coloured rice or powder. The most popular pattern is the lotus flower since Lakshmi used to sit or hold this kind of flower. Families and friends gather and share gifts, sweets and other food to each other. They also share their blessings with the less fortunate. People also clean and redecorate their houses, as well as wear new clothes.
Countless events will be held in many countries in the UK. In 2015, Leicester hosted the largest light switch-on outside India 37,000. This year's celebration is expected to be bigger and brighter it with the council reportedly spending £88,000 on numerous events.
In London, the main celebration of Diwali transpired at the Trafalgar Square on 16th October. Aside from live music and dance performances, Bollywood star Ranbir Kapoora delivered special message. If you have missed this, the BAPS Shri Swaminarayan Mandir will host a two-day festival celebration this year. However, there won't be fireworks displays out of respect for the recent passing of HH Pramukh Swami Maharaj. Thousands are expected to join the puja or prayer ritual) in the temple.
A cultural showcase of drama and dance performances will be held at the Bhaktivedanta Manor in Hertfordshire. It will be followed by a fireworks display and candle offerings in the evening with free vegetarian meals.
We at Essay Writer wish everyone celebrating Diwali bright and safe festivities! Should you require our assistance in your academic writing assignment, please feel free to contact us.