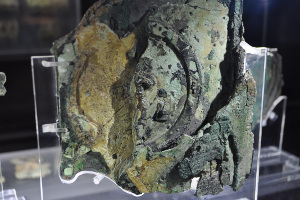 The 115th anniversary of the discovery of the Antikythera Mechanism is commemorated today, 17th May through a Google Doodle. This mysterious artifact discovered in 1902 has been dubbed by some as the world's first computer. The device, which is about the size of a mantel clock, continues to intrigue historians, archeologists and ordinary people alike. According to Google, today's Doodle "illustrates how a rusty remnant can open up a skyful of knowledge and inspiration."
What is an Antikythera Mechanism?
According to experts, the Antikythera mechanism is the world's first mechanical computer Greeks used 2,000 years ago. It was an astronomical calculator, charting the movements of the sun, moon and planets, and predicting lunar and solar eclipses. It was also used as an indicator of the next Olympic Games. It is described as a complex system of more than 30 sophisticated bronze gears kept in a wooden and bronze case."
The mechanism got its name from an island located in the Aegean Sea between mainland Greece and Crete. Antikythera literally means "opposite of Kythera,'' which is a bigger island in the area. It is believed to have been built around 85 BC but new studies suggest it may be from 150 BC.
Artifacts of the mechanism and reassembled replicas can be viewed at the National Archaeological Museum in Athens, Greece. This particular exhibit has been able to tour around the world over the last 10 years.
The Discovery of the Antikythera Mechanism
The mechanism was discovered by archeologist Valerios Stais on 17th May 1902 while analysing artifacts from the Antikythera shipwreck. A group of Greek sponge divers found the wreck two years prior, but the mechanism had been overlooked. The device looked like a chunk of corroded bronze and wood, and Stais noticed a rock had a gear wheel. He assumed that it was just an astronomical clock but scholars believed it to be advanced for its time.
Investigations on the device soon died down until Derek J. de Solla Price from Yale University reexamined it in 1951. The British professor worked with Greek nuclear physicist Charalampos Karakalos and made x-ray and gamma images in 1971. In 1974, the former published a 70-page paper on the findings of the 82 fragments.
According to the Smithsonian Magazine, the month names written on the mechanism were used in Corinth and ancient northwest Greece. It also included Naa, a festival in Greece and Halieia, a festival in Rhodes. It is unknown why the device was on the ship but people believe it was headed to Rome. Together with other looted treasures from Rhodes, it was supposed to be given to Julius Caesar for his triumphal parade.
If you found this post interesting, you may browse through our other blog entries. If you also need to write an essay about this topic or other interesting matter, we can be of assistance. Please feel free to contact us or fill out the order form. We will get back to you as soon as possible.