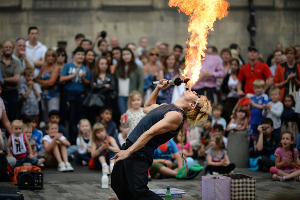 The biggest arts festival in the world is back. Are you ready for Edinburgh Festival Fringe 2017? Drawing massive crowds every year, the Fringe provides a platform to thousands of performers to hold shows for every taste. The month-long event that showcases well-known artists and up-and-comings runs from 4th to 28th August in Scotland's capital.
This year's celebrations are extra special as it is on its 70th anniversary. It has been 70 years since eight theatre companies performed uninvited at the inaugural Edinburgh International Festival in 1947. It unknowingly paved the way to a new movement that offered creative freedom to artists through its open access platform.
Living up to its name as the world's biggest arts festival, the Fringe 2017 assembled 3,398 shows in 300 venues. It features some of the best performers in comedy, physical theatre, musicals, cabaret, opera, dance, circus, and exhibitions.
While there will be a number of entertaining random acts on the streets, make sure to schedule the must-watch performances. Some would be as short as three days, while others will run for the whole month.
The Fringe 2017 Comedy Acts
The Fringe is known as the stepping stone for a lot of comedians. Some believe that a successful Edinburgh performance can make or break a comic. Audiences flock the festival to get a chance to see them before they become a big name. Here are some of the comedic acts to watch:
Alexie Sayle, dubbed as the godfather of alternative comedy, performs for the second time at the Fringe in 37 years. In a perfect revolutionary fashion, he hasn't provided any title or synopsis of his show that guarantees to be sharp and funny. This would leave audiences more curious. Catch him on 2nd to 11th August at the Cowbarn, Underbelly Med Quad.
Phoebe Waller-Bridge's Fleabag has been turned into a hit BBC show but will return to its roots. The hilarious and dirty monologue will be at the Underbelly, George Square on 21st to 27th August.
Are you a fan of the television hit Game of Thrones? Here is something that would be interesting to watch: Thrones! A Musical Parody. It has been created by the team behind the Fringe hit Baby Wants Candy. Don't miss this spoof on 2nd to 28th August, which will have seven updates within the month. It will be staged at Studio One, Assembly George Square.
Ingrid Oliver, one half of the sketch duo Watson and Oliver will have her debut solo show entitled Speech! The woman who plays Petronella Osgood in Doctor Who will perform an assorted mix of characters. These characters give out important speeches, such as a bridal toast and a dramatic Oscar acceptance speech. Her shows will be held at That, Pleasance Courtyard from 2nd to 27th August (except on the 14th).
Be sure to check out the official Fringe site to learn about the best and unique acts this year. If you require any assistance in writing about this event or other topics, please do not hesitate to get in touch with us. We offer various academic writing services with over a decade of experience under our belt. Please fill out the order form to get started.