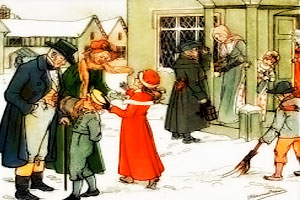 Another winter holiday in the UK and commonwealth countries that people look forward to is Boxing Day. On 26th December each year, get to enjoy a relaxing day after a busy and festive Christmas celebration. The following Monday and Tuesday are bank holidays if Christmas Day falls on a weekend.
What is the story behind Boxing Day?
There are numerous stories behind this holiday. During the feudal times, lords of manors would provide boxes of goods to their workers like food, tools and clothes. These would serve as payment for their work throughout the year.
Some believe that it has something to do with the church's collection of money in boxes. Romans used to collect money for athletic games with boxes with slits. This idea was brought to Britain and priests and monks started collecting money for the poor on Christmas. The day after Christmas, the boxes will be opened and distributed to the indigents in the village. Thus, Boxing Day came to be.
Another version is about servants being permitted to take some leftover Christmas food in a box for their families. This had evolved to employers giving gifts in the form of money or food placed in boxes. This particular tradition has transformed into Christmas hampers with more goodies given to employees.
Boxing Day Sales
Blow-out sales are another reason why Boxing Day is one of the most awaited holidays. It is often dubbed as shopping holiday, comparable to Black Friday in the United States. Shops give out the best deals and amazing discounts on basically everything, from fashion, health, to electronic products. This is specifically great for bargain hunters ready to splurge using bonuses and monetary gifts they received on Christmas. Shoppers wake up early and eagerly wait for stores to open. Long lines and shoulder-to-shoulder crowds won't be an issue given that they get to buy everything at discounted rates. Online shoppers stay up the night before to get an early scoop and have dibs on the cheapest offerings.
This holiday generally provides the highest revenues to merchants. To manage the huge number of customers and minimise accidents and theft, stores come up with various strategies. They would usually limit the number of persons at a time or give out tickets to guarantee those in queue quality items. Another effective way is stretching the number of days so they hold a Boxing Week. Sales would usually run a few days before or after the 26th.
As a friendly reminder from Essay Writer, do your bank transactions before the holidays so you won't have any problems. Plan your day ahead as roads can be super busy and public transportations run on certain timetables. May you all have a fruitful Boxing Day!