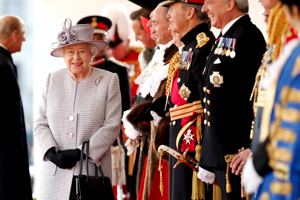 To start the year positively, the Queen conferred 1,197 people from different walks of life in the UK. The New Year Honours List 2017 has recognised actors, musicians, sportsmen, academics, philanthropists, charity workers and volunteers.
The top three awards represent various ranks in the Order of the British Empire. The highest rank is the Commander of the Order of the British Empire (CBE). The OBE (Officer) and MBE (Member) are the second and third ranks, respectively. King George V created these honours during World War I in 1917. They were given to servicemen and civilians for their contributions to the war effort. Today, they are handed out to recognise contributions in various areas like charity, arts, education, sports, and others.
The highest rank in the Order of the British Empire is the GBE or the Knight or Dame Grand Cross. It is a rarely given award and it has been presented to only a handful of people. The second highest is the KBE or DBE, the Knight or Dame Commander of the Order of the British Empire. The third is the CBE, but only receivers of the top two can be called sir or dame.
Big Names on New Year Honours List
British cycling's "golden couple" Jason and Laura Kenny both received a CBE for their services to cycling. They have a total of 10 Olympic gold medals between them. Another big name on the list in the world of sports is tennis champion and Olympic gold medalist Andy Murray. He received a KBE for services to tennis and charity. For services to athletics, Mo Farah was also knighted, while Ennis Hill was named dame. A total of 110 Olympians and Paralympians were conferred for their great performance in Rio last summer. This includes the entire womens hockey team.
89-year-old comic Ken Dodd received Knighthood for services to entertainment and charity. Actress Patricia Routledge received damehood for services to theatre and charity. The Kinks front man Ray Davies obtained a knighthood for services to the arts. Opera singer Bryn Terfel received a knighthood for services to music. Vogue Editor-in-chief Ana Wintour received damehood for services to fashion and journalism. On the other hand, former Spice Girl Victoria Bekham received an OBE for services to the fashion industry.
Apart from the popular names on the list, over 80 former and current charity and voluntary sector staff received medals. Angela Rippon received a CBE for her work at Dementia Friendly Communities. Janet Gillespie, one of the oldest awardees at 94, received a British Empire Medal (BEM). This is for her dedication to Poppy Scotland, where she worked for more than 60 years. 17-year old Jeremiah Emmanuel also obtained a BEM for setting up a campaign to end violence. He began volunteering at the young age of four and established One Big Community after his friend was violently killed.
If you need to write an academic paper regarding this topic, please let us know so we can assist you. Also feel free to browse through our different services so you will be guided accordingly. We have a wide database of writers who are experts in various fields.