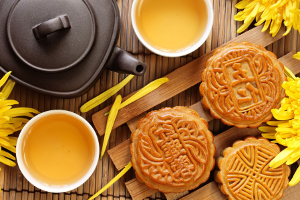 Mooncakes and lanterns will fill the air in China and Southeast Asia as they celebrate the Mid-Autumn Festival today. Festivities take place on the 15th of the 8th month in the lunar calendar each year. The 15th of each month is when the moon is brightest and roundest, which symbolises reunion for the Chinese. It is believed that the brightest moon appears on this occasion, signifying its other name Harvest Moon Festival. Other names of this celebration include Mooncake Festival, Reunion Festival and Lantern Festival.
The holiday recognises three essential concepts closely related to each other: gathering, thanksgiving and praying. Families and friends gather to eat and pray together at this time. Prayers typically include conceptual and material gratification such as having spouses, babies, good health, long life, etc. Traditions may change due to technology, economy and other factors but these three still remain strong.
Mid-Autumn Festival Customs and Myths
This festival is filled with customs and myths based on moon worship. The moon often symbolises beauty and elegance. Women would also connect it to their monthly period, which they call monthly water. When it comes to childbearing, the Zhuang people believed that the sun and moon are a couple. The moon becomes full and round, signaling pregnancy. It then becomes crescent after giving birth to stars as their children. The custom of women worshiping and giving offerings to the moon comes from this myth.
The Chinese believed in relating rejuvenation or revitalising with moon and water. Offerings are also given to the Chinese Moon Goddess of Immortality named Chang'e. The story behind this is the selflessness of a woman named Chang'e. Hou Yi, her husband saved the world by shooting 9 out of 10 suns that were causing too much heat. He was crowned king and given an elixir of immortality. To avoid the elixir from going to the wrong hands, the wife took it and stayed on the moon. She looked down on her husband and Hou Yi would offer fruits and cake to her. However, her king husband became a tyrant and commanded another immortality potion. Chang'e stole this on the 15th of the 8th month because she did not want the harsh king to live forever. Yi eventually died because of his deep anger to his wife. Chang'e became the spirit of the moon and the people worshipped her for her heroic deeds.
Modern Celebrations for Mid-Autumn Festival
The Mid-Autumn Festival marks the end of autumn harvest and people traditionally gave thanks to the gods. Today, it is celebrated through family reunions and moon-viewing parties. Aside from relatives and friends gathering outdoors, there are cultural or regional customs done. People burn incense and those from China and Vietnam perform dragon and lion dances to pay respects. A significant part of the celebration is making and eating mooncakes. This circular and yummy treat symbolises completeness, reunion and unity. They are traditionally made with red bean or lotus seed paste filling but they now come in different versions. Some are filled with chocolate, green tea, meat, vegetable, and fruit flavours.
Another distinguished part of the holiday is the display of colorful and bright lanterns. In more traditional Chinese homes, creating laterns is a favourite activity for children. Before flying their Kongming lanterns, kids write good wishes and attach them to their illuminating creations.
We, at Essay Writer wish all Chinese students a delightful and lively Mid-Autumn Festival. If you wish to avail of our writing services, please do not hesitate to contact us. We have proficient writers in various subjects and levels that would help you this autumn term.