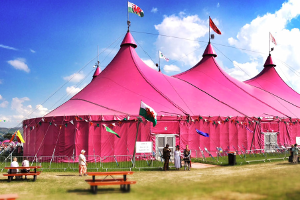 Anglesey is the home of the 2017 National Eisteddfod, which runs from 4th to 12th August. The maes are particularly situated at the village of Bodedern north Anglesey. Eisteddfod Genedlaethol Cymru in the Welch language, Eisteddfod is an annual celebration of Welch culture.
Eisteddfod happens in different parts of Wales each year, enabling various communities to showcase what their beloved hometown offers. The traveling festival attracts around 150,000 tourists eager to participate in music, literature, drama, art, shopping, competitions, and other activities.
National Eisteddfod 2017
Here are the highlights of this year's Eisteddfod revelries:
Best decorated business / community

To show their support to this event and make visitors feel welcome, businesses and communities decorate their establishments and homes. The best decorated entity will be awarded by Eistedfod, in cooperation with the National Federation of Women's Institutes in Wales. The winner will be awarded on 8th August.

Over 200 tents at the Maes

One day would not be enough to visit and enjoy what the Eisteddfod has in store for its attendees. With more than 200 stands and pavilions celebrating Welch culture, it can get pretty overwhelming. There is a centre for learners, tents for poetry, instrumental and theatre competitions, food village, translation centre, and concert stages.

Crowning of the Bard and Chairing of the Bard

Two of the most important events in Eisteddfod are the Crowning of the Bard and Chairing of the Bard. Each year, a new bardic crown and bardic chair are specifically designed for the winning entrants. The crown is given to the winner of the Pryddest or poetry in free verse. On the other hand, the chair goes to the winner of the Awdl or poetry written in cynghanedd. Since this type of poetry uses a strict metre, the chair sometimes remain vacant if the standards are not met. The awarding ceremonies are presided by the Archdruid of the Gorsedd of Bards.

Concerts

The festivities won't be complete without live musical performances. Every night promises a unique ensemble with different genres and styles. The opening concert will be a wonderful mix of old and new hits, which features Only Men Aloud, Rebecca Trehearn and Gwawr Edwards. Saturday is dubbed as big-band night with Rhys Taylor's Big Band, Shân Cothi and James Williams with the Eisteddfod Choir. There will also be a classical evening filled with music, dance and literature called Serenestial: Adventure through Time and Space.
We at Essay Writer would like to wish our Welch friends joyous and memorable Eisteddfod celebrations. Should you have any writing project regarding culture or other subjects, we will be happy to assist you. Please feel free to contact us and we will get back to you as soon as possible.