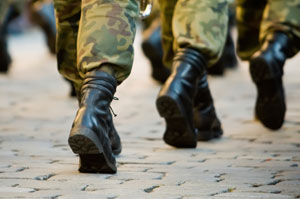 Pupils are outdoors, sweating to complete the military-style obstacle. Soon enough, problem students will be subjected to discipline – that of which is upheld by the men and women in military uniform.
Sweat and orders – these are the expected variables that should be rolling along Greater Manchester's Commando Joe's, Kent's Challenger Troop, Newcastle's SkillForce, or Merseyside's Knowsley Skills Academy.
This intervention isn't just targeting "discipline issues;" it is set out to work on pupil's motivation, confidence, and ability to work as a team (thereby introducing the team-player role).
A research-based alternative
The original idea of bringing in soldiers to teach the school's young lads and ladies can be traced back from the United States. During this scheme, inner-city schools were infused with some 15,000 ex-soldiers. The objective was clear: "to boost results and behaviour."
Back at the United Kingdom, a study had been carefully conducted at the Swansea University. Its aim was to ascertain the positive effects of deploying ex-members of Armed Forces in schools, particularly, those considered to be "deprived areas."
The results had been affirmative: "56 per cent of pupils taking part raised their maths grades while 70 per cent showed improvement in writing." Naturally, the move towards facilitating the return of ex-soldiers into schools, this time as teachers of discipline, had paved the way.
Financial reinforcements
The Government programme is worth £4.8 million and will be appropriated among six projects:
The Prince's Trust
CVQO
Commando Joe's
Challenger TroopSkillForce
Knowsley Skills Academy
These servicemen shall "take lessons at schools across England" before entering the classroom.
Merits and challenges
With a funding as generous as this, what value could this military-style infusion bring into the problem child's table?
Education Minister, Elizabeth Truss made special mention about the "values of hard work and discipline." Facilitating an environment which will foster such values, as well as, presenting themselves as role models, these ex-soldiers are cut for the inherent challenges.
The significance of addressing pupils' behaviour issues rests in the magic word: disengagement. Indeed, behaviour, together with attendance and achievement, make up the "three indicators of engagement." As it follows, addressing behaviour issues ensures that pupils are a step closer to activating engagement and ultimately, appreciate the learning process.
Ex-members of Armed Forces have the following in-store for oncoming pupils:
one-to-one mentoring
military-style obstacle courses
team-building sessions
confidence-building exercises
Pupils manifesting behaviour problems face tough pressure from peers, family, and society, as a whole. While some pupils are able to come by, the big bulk falls behind. This unleashes a series of malevolent tirades at schools, which while permits pupils to "exhaust" themselves, cannot avoid but hurt their learning and future.
Instinctively, pupils become victims. The education sector is determined to put this trend to a stop. Swansea's findings perfected a possibility of improved behaviour and academic performance. Worth highlighting are the Education Minister's words: "… that more children can benefit from the military ethos." And it is with this promise that funding and soldiers are put in place.
Are you optimistic about this military-style infusion for the young pupil's education? Or, should the investment go about funding other education projects?