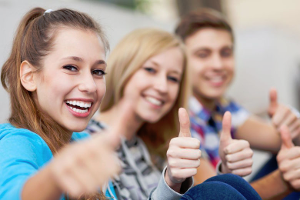 An international organisation has conducted a study regarding the wellbeing and life satisfaction of teenagers. The Organisation for Economic Co-operation and Development (OECD) has surveyed 540,000 students internationally. These students also accomplished the OECD Pisa tests in Reading, Science and Maths in 2015. Results show an average satisfaction score of 7.3 on a scale from zero to 10 are happy with their lives.
Results of OECD Survey of Teenagers
The study also analysed the motivation of students to perform in school and their relationships with their classmates and tutors. Their life at home and activities outside school were also part of the analysis. Including 48 OECD countries and partner nations, it shows significant variations on how teenagers feel about their lives.
The highest levels of satisfaction belonged to teens in Domincan Republic with 8.5, followed by Mexico with 8.3. Costa Rica came in third with 8.2. The United Kingdom only came in at 38th place, with 7.3 for life satisfaction. Asian countries Macau, Taiwan, Hong Kong, and Korea had low levels with 6.6, 6.6, 6.5 and 6.4, respectively. Girls and disadvantaged students compared to boys and advantaged students had low life satisfaction levels.
Main Problems of Teenagers
Young people may be generally happy but the top main problems they face involve school work and bullying. Students who spend heavy hours using the internet have low life satisfaction and feel lonely at school.
Anxiety towards school work wasn't necessarily about the number of school hours or the frequency of exams. Instead, it was about the support they get from their teachers and schools.
59% of respondents reported they frequently worry of the difficulty of the exam while 66% feel stressed about low grades. About 55% feel very anxious for an exam despite being prepared. Girls in all countries have higher schoolwork-related anxiety than boys. Apprehension towards schoolwork, homework and tests is negatively connected to performance.
In terms of bullying, around 11% of teenagers said they were mocked. About 7% felt "left out of things" and 8% were the victims of cruel rumours. Around 4% of students said they were hit or pushed at least a few times in a month. The OECD research revealed that schools with positive student-teacher relationships had less bullying incidents.
What can you say about the results of the study regarding teenage life satisfaction? If you require assistance in writing about this topic or any subject, Essay Writer can help you. We have plenty of writers in every subject that would gladly assist you. Please fill out the order form to get started.