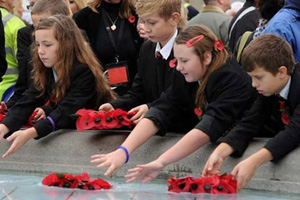 The UK and the rest of Commonwealth will pay tribute to the fallen for Remembrance Day today, 11th November. This also marks the 98th anniversary of the end of the First World War. A traditional two-minute silence and wreath-laying ceremonies will be observed at war memorials at 11 am. The start and end of the silence would often be marked by firing a ceremonial canon. The main observance of this event is on the Sunday nearest to the 11th, also referred to Remembrance Sunday.
History of Remembrance Day
Why do people pay tribute to the men and women who served and died for the country on 11th November? The conflicts during World War 1 ended at the 11th hour of the 11th day of the month in 1918. The First World War was officially over on 28th June 1919 with the signing of the Treaty of Versailles. King George V announced that a two-minute silence be observed to pay respects to those who served in the army.
This event is also called Poppy Day, which came from Canadian army officer John McCrae's poem "In Flanders Field." The famous opening lines say In Flanders fields the poppies blow; Between the crosses, row on row.
Remembrance Day Commemorations
Various services will take place across the UK today for Remembrance Day, also called Armistice Day. The Royal British Legion will lead the yearly Silence in the Square in Trafalgar Square. Hosted by Ben Shephard, the event will have readings and musical performances leading to the two-minute silence.
Prince Harry will be the frontrunner in remembering the 16,000 servicemen at the National Memorial Arboretum, Staffordshire. He will lay wreaths, give a reading and inspect the names on the memorial. It is noteworthy that the prince ended his 10-year army career last summer and was deployed to Afghanistan twice.
For Remembrance Sunday on 13th November, the main ceremony is held at the Cenotaph in Whitehall, London. The Queen, along with the Royal family and politicians will join the serving military to lay wreaths at the monuments. There will be church services concerts and other memorial events across London.
Here are some of the memorial service events in England:
Bournemouth – Bournemouth town centre at 10.30 am
Bradley Stoke – Jubilee Centre at 10:30am
Bristol – Queen Square at 9:30 am
Clevedon -Salthouse fields at 2:15 pm
Kingswood – Cecil Road car park at 2 pm
Knowle – Knowle Parish Church at 10:45 am
Long Ashton – All Saints Church at 10.50 am
Portishead – St Peter's Church at 10.50 am
Thornbury – St Mary Street car park at 2 pm
Weston-super-Mare – Grove Park at 10.58 am
Yate – Poole Court at 9:15 am
We at Essay Writer are one with the entire nation in remembering our fallen men and women war heroes. May we all offer a two-minute silence and say a little prayer to pay respects to all them.