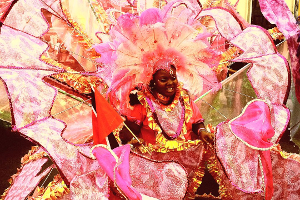 If you have nothing planned for the summer bank holiday weekend, why not attend the Notting Hill Carnival? On 27th and 28th August, the biggest festival in Europe will take place in London, featuring Caribbean culture and heritage. The festivities will be around Notting Hill, Ladbroke Grove, Westbourne Grove, Westbourne Park, and Kensal Road.
The Caribbean-themed carnival will officially commence at 9:30 am on Sunday and end at 6:30 pm on Monday. However, celebrations will kick off on Saturday with a steel band music competition during Panorama at 6 pm. It will be held at Emslie Norniman Pleasance Park.
Notting Hill Carnival Guide
First off, allot extra time for transport to West London as some tube stations and roads will be closed. Wear your most colourful and comfortable outfits and bring extra! When the Notting Hill Carnival started in 1966, there were only about 500 attendees. Now, there will be thousands of people partying with you so be prepared to get sweaty, wet and dirty. Don't let sore feet or dirty clothes stop you from having fun. There will be wonderful calypso music, beautifully dressed dancers, impressive floats, and mouth-watering chicken jerky, BBQ, curry goat and others.
Music lovers will revel at the distinct Caribbean-influenced sounds at the Notting Hill Carnival. Apart from calypso, it features reggae, ska, soul, afro beat, dub, soca, funk, drum n bass, jungle, dancehall and more. It also going to be one great music festival.
Planning to take kids to the carnival with you? Be there early on the first day referred as Family Day or Children's Day as the events are more low-key. Make sure to bring some food, water and travel potties for the youngsters. Although there will be food stalls and portable toilets, the lines are expected to be very long. The Jouvert procession takes place at Ladbroke Grove W14 starting at 6 am. It is a traditional event where people cover one another with melted chocolate and colourful powder and paint. There will be a colourful children's parade at 9 am. It will be followed by a concert of eclectic sounds at the World Music Stage at Powis Square until 7 pm.
Prepare for some hard partying during the Grand Finale on Monday! It promises to be extra loud, colourful, exciting, and fun! It boasts of more than 60 bands, 37 sound systems and numerous flamboyant performers in elaborate floats.