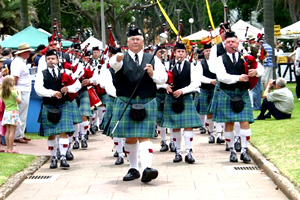 30th November is a significant day in Scotland and countries with Scottish connections as they celebrate St. Andrew's Day. Andrew the Apostle is the patron saint of Scotland, which is why the Scots honour him and consider this day a national day. This special day has been declared a bank holiday in 2006. Andrew is also a patron saint in various countries such as Bulgaria, Greece, Cyprus, Romania, Russia, Ukraine, and Colombia.
St. Andrew's Day Origin
St. Andrew was not a Scot and was actually born in Galilee, now a part of Israel. So how exactly did he become the country's patron saint? There are two versions of its origin. The first legend is that because of Andrew's extensive journeys, he came to Scotland and built a church in Fife. This town has been renamed to St. Andrews and the church became a pilgrimage and a centre for evangelism.
The second legend looks back to the time a monk named Regulus brought Andrew's relics to Scotland. A Pictish king gave him land to build a church, which later on grew into a cathedral. It was named St. Andrew's and a university with the same name was founded in 1413.
Scots needed a national symbol to motivate their country and Andrew's inspiring life was an ideal choice. Scotland's flag is based on his x-shaped crucifixion on 30th November, 60 AD. Kings in different eras turned to him in times of wars and hardships. For instance, in the 832 AD battle of the Picts against the Angles, Andrew's cross appeared in the sky. The Picts were inspired by this symbol and fought until they were triumphant.
St. Andrew's Day Festivities
Aside from honouring St. Andrew, this day is a perfect time to celebrate Scottish culture. The day will be filled with singing, dancing and storytelling. Banquets will be bursting with delicious local haggis and free-flowing whisky. This is also a perfect opportunity to spend quality time with family either over home-cooked meals or restaurant specials. Numerous Historic Environment Scotland venues have free or discounted rates as well.
Edinburgh, Scotland's capital will definitely be busy with street markets, storytelling activities and musical events. Head to the Scottish Storytelling Centre to witness two fantastic Winter Warmer events specifically held for St. Andrew's Day. Glassgow's way of celebrating this day is through movies. The Glassglow Film Festival will show an awesome Scottish film at the Mackintosh Queens Cross Church. There will also be entertaining events at the Riverside Museum, the Hunterian Museum and Art Gallery, and Kelvingrove Park.
Essay Writer wishes everyone a great St. Andrew's Day celebration. If you need assistance in writing an essay about this special event or other topics, feel free to let us know. Do not hesitate to contact us or fill out the order form and will be happy to help you.