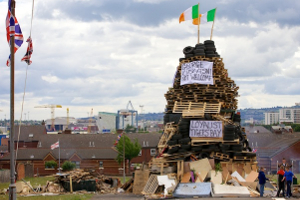 Today, 12th July is a significant day for Protestants in Northern Ireland as they commemorate the Twelfth or Orangemen's Day. This holiday honours the 1688 Glorious Revolution and its conclusion in the 1690 Battle of the Boyne. Protestant King William of Orange successfully defeated Catholic King James II, which prompted the rise of Protestantism in Ireland.
The Twelfth is an official bank holiday in Northern Ireland. If it falls on a Saturday or Sunday, the bank holiday in the constituent country falls on the 13th or 14th.
Hate Banners Connected to the Twelfth
Twelfth festivities usually take place days or weeks early where members of the Orange Order hold mini marching band parades. Celebrations of the Twelfth in Ulster oftentimes stir tension considering half the population in the city is of Irish Catholic background. In fact, this year is not free from controversy as several issues continue to arise.
The night before the 12th of July, the Eleventh Night is held by Protestant unionists, which traditionally includes huge bonfires. Loyalists consider these yearly bonfires as family-friendly celebrations of Protestant culture. However, these gigantic bonfires, usually built with wooden pallets, raise concerns around safety to nearby homes and business establishments. Critics consider them dangerous activities that encourage anti-social behaviour and isolating to nationalists.
Some supporters continue to put up hate banners against non-unionists in bonfire locations that cause further animosity. To remedy this, four loyalist bonfire sites in east Belfast were subject to a High Court injunction last week. These places were Avoniel Leisure Centre, Inverary playing fields, Ravenscroft Avenue car park/Bloomfield walkway, and Cregagh Park East. Despite this, violations were committed and negative resources in bonfires were still found in the area. One in particular was racist remarks against Celtic football player Scott Sinclair last 11th July. The banner, displayed at a pyre in the Avoniel Leisure Centre read: "Scott Sinclair loves bananas."
Images of the late Martin McGuinness, Sinn Fein and other non-unionist politicians were also seen on multiple bonfire locations. The Police Service of Northern Ireland (PSNI) is currently investigating complaints about different materials placed on bonfires. They assured everyone that they take hate crime very seriously. They want the public to know that they are doing everything so people can live free from prejudice, fear and discrimination." It is noteworthy that the vast majority of around 600 Protestant loyalist parades are typically safe and free from crimes.
As Essay Writer respects every culture and religion, we would like to wish our friends safe and happy Twelfth celebrations!