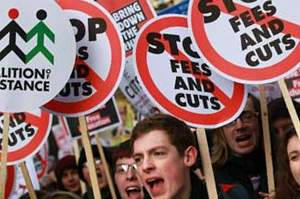 Even before the start of term in September, there are already early indications which suggest that the tripling of university tuition fees is discouraging students from pursuing university. This autumn marks the start of tuition fees being hiked to a maximum of £9,000 a year at English universities.
According to the Independent Commission on Fees, there has been a "clear drop" in the number of applicants from England, compared with their counterparts from the rest of the UK. The panel was established in January to monitor the effect of the tuition fee hike, especially on students from poorer background.
The panel's first report draws from application figures from January 2012 compared with those of the past three years as compiled by university admissions service Ucas. Applications from English students were down 10% compared to the same time last year. Northern Ireland registered a drop of 4.5%, whilst the drop in Wales was at 2.9% and Scotland 2.1%.
According to panel chairman Will Hutton, an Oxford college principal, a positive finding from the study is the lack of relative decline in university applications from poorer areas. Universities Minister David Willetts mentioned on a BBC radio programme that there is still a "very strong demand" for a university education. Last year, a record number of 31.6% applied to UK universities. Whilst this year's figures are down to 30.6%, the minister said it is still the second highest rate of applications on record.
The government says no-one should be discouraged from pursuing a university degree because of finances because student loans will cover part of the fees. These student loans will only be paid back gradually if and when a former student already earns more than £21,000 a year. It says there are no "up-front fees" and there will be lower monthly payments on loans compared to what they are now.