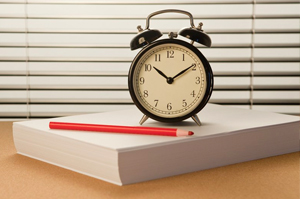 Why do some students fail in their studies or get low grades? The answer is that they do not get things done on time or, if they do, they have very little left. So why don't they get things done on time? The answers are lack of time management and procrastination. Not all students perfect their time management. It is usual for every student to fail at it in one instance or more. If you will encounter the situation wherein you have very little time left to complete your school assignment like an essay, what steps do you need to know and do that will help you?
Regroup
First, you must gather and compose yourself. Start by clearing your mind and energising yourself. You can give yourself the first hour or less to get yourself and your school work area clean and organised. You can start with a meal which you can be prepared quickly but will be able to energise you so that you can do the tasks in your assignment well without being interrupted later. What is important is you prepare to go on this emergency mission.
Make a Plan
After getting yourself and the area where you will do your essay writing prepared for the task, you can now start it by making a plan. Give yourself around 15 to 30 minutes to write a plan on how to go about and complete the whole task. Make it short and simple. Identify the amount of time you have left, the materials you can use, the help you can get and the kind of work you can expect to come up with given the limited time.
Make the Most of What You Have
You do not have the same ample time you should have had if you started your school work earlier. In your plan, allocate an amount of time for your research that is proportionate to your actual making of your assignment. If you have two days left to do the whole task, give only around two to four hours of the first day to research. Make the most of the resources you can gather. Within the limited time and resources, aim to achieve the highest possible quality of output that you can. Then, you can schedule writing the draft of your essay for the rest of the first day so that you will have the second day which is the last to review our work and make the necessary finalisation.
Follow Your Plan
Focus on the emergency mission of completing your school assignment with very little time left. Forget about everything else. Put off distractions like reading the newspaper, taking a peek at the television, visiting your favourite social media websites (Facebook, Twitter, Tumblr etc.) or checking your e-mail. Give this to yourself as a challenge. Giving in to the temptation will surely make you lose precious time. You cannot do these things with minimal time, especially with the internet which offer boundless connections to more pages to browse.
These steps are only for emergency cases when you have failed to promptly start your school assignment. Make the most of what you can do with them and make it a point to avoid it happening again soon. Instill in your mind the benefits of regularly doing your assignments promptly and utilising the ample time given to you.