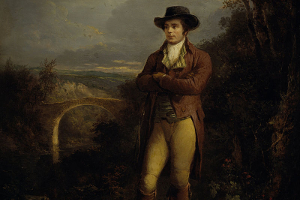 Scotland and Scots all over the world celebrate Burns Night to pay homage to their national poet, Robert Burns today, 25th January. Tables will be filled with Burns Supper staples such as Haggis, Neeps & Tatties, and Cranachan, and finished off with unlimited Whisky. In traditional celebrations, the "Address To A Haggis" will be recited and pipers play "Robbie Burns Medley," "A Man's A Man for A' That," or "The Star O' Robbie Burns" to greet the guests and during the serving of the Haggis.
In her Burns Night greeting, First Minister Nicola Sturgeon proudly acknowledges how this event is celebrated in different parts of the world. She added: "I always think it's remarkable and admirable that Scotland's most celebrated national figure isn't a politician, a soldier, or a king or queen, but is instead a writer – someone whose songs and poems have enriched millions of people's lives."
On the other hand, Scotland's International Development Minister Dr. Alasdair Allan said: "As one of Scotland's national heroes, Burns is also one of our most treasured cultural exports."
Robert Burns: An important Scottish Figure
Robert Burns, also known as Rabbie Burns, the Ploughman Poet and the Bard of Ayshire, was born in Alloway, Ayshire on 25th January 1959 as a son of poor tenant farmers. He died on 21st July 1796 at his prime age of 37, leaving his wife and 12 children. Commemorations began in 1901 when his friends celebrated his death, which inspired Scotland to celebrate his life and career yearly on his birthday instead.
Burns is remembered for his exceptional original compositions of poems, ballads and songs. His most popular work would probably be the New Year song "Auld Lang Syne," which he wrote in 1788. Other poems and sonnets include "A Red, Red Rose," "A Fond Kiss," and "My Heart's In The Highlands."
Burns also spearheaded the Romantic Movement. A blunt political commentator, he is also credited to have inspired the founders of liberalism and socialism. In 2009, Rabbie was voted as the greatest Scot ever in a national poll run by Scotland's STV.
Essay Writer would like to wish you and your family a festive Burns Night! Do you have a writing assignment about this celebration or other topics? Allow us to assist you as we have thousands of expert writers that can help you produce a high-quality piece of work. Get started here.