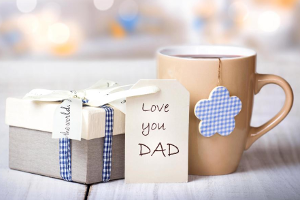 "A father is neither an anchor to hold us back nor a sail to take us there, but a guiding light whose love shows us the way." –Unknown
A father's role in a child's life is more than just providing financially and paying the bills.  According to Sigmund Freud, the strongest need of a child is a father's protection. Numerous studies show that a father's role in early childhood is an important factor in a child's growth. Children with involved and supportive fathers have better social, cognitive and language development. In addition, they tend to achieve academically, have a strong sense of wellbeing, and high self-esteem.
Although you can always show your appreciation to your dad, Father's Day is the perfect opportunity to honour him. The first Father's Day observance is said to have been in July 1908 in West Virginia USA. It was to honour the fathers who have died in the Monongah Mining Disaster. The tragedy killed 361 men, 250 of them were fathers.
Creative Father's Day Ideas
Making our dads happy doesn't have to involve expensive gifts. Here are simple ideas that you and your siblings can do for Father's Day.
Put a smile on dad's face by giving him a handmade scrapbook. Bring out your creative side and get your younger siblings involved. In this digital era, your father will appreciate old-school handcrafted creations.
Cook dad's favourite dish and pair it with his favourite beer or wine. Trust us, a way to your dad's heart is through his stomach! You can ask your mom for help to minimise the mess and ensure that the food is delicious.
If your dad and the whole family are the outdoorsy type, plan a camping trip. Make all the necessary preparations and arrangements so dad has nothing to worry about. He definitely deserves a stress-free day on a sunny day.
An easier outdoor activity is having a picnic at a nearby park. Bring a picnic basket filled with yummy food and refreshing drinks. This would be a simple yet fun family bonding.
Give dad a relaxing spa day. If you and your siblings can chip in for this calming treat, your dad will definitely thank you.
If all else fails, give dad a Father's Day card and tell him how much you love and appreciate him. It's the thought that counts!
Essay Writer would like to greet all dads and father figures a Happy Father's Day!