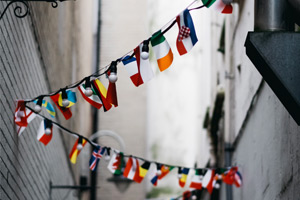 How do you define peace? Each year, the United Nations urges every nation to come together in celebration of International Day of Peace. Celebrated every 21st September, the yearly event is dedicated to world peace, particularly the end of violence and war. This day usually prompts a temporary ceasefire in war zones to provide access for humanitarian aid.
The first official Peace Day was held in 1982, which is kept by nations, as well as political and military groups. The celebration in 2013 was dedicated to peace education by the UN Secretary-General.
2017 International Peace Day Dedicated to Migrants and Refugees
This year's Peace Day theme is "Together for Peace, Respect, Safety and Dignity for All." It is specifically dedicated to millions of migrants and refugees forced to leave their homes to escape persecution and war. This theme honours another global initiative entitled Together, which seeks respect and safety for migrants and refugees. It is a global partnership supported by the 193 UN member states, civil society, academes, and private individuals. It was initiated during the United Nations Summit for Refugees and Migrants last 19th September 2016.
Last 15th September, Secretary-General Antonio Guterres rang the Peace Bell at the United Nations Headquarters in New York. The annual ringing calls for everyone in battle "to lay down their arms and observe a day of ceasefire and non-violence."
The Secretary-General had this message: "When more and more doors and minds are being closed to refugees, let us show solidarity." He said that people should highlight the shared benefits of migration to economies and to nations. "When others receive the support they need and deserve, we are all more secure and better off," he further added." He emphasised that those who have the privilege to enjoy peace and prosperity should allow others to experience it as well.
Getting Involved on International Peace Day
The UN invites everyone the world in getting involved on Peace Day through diverse and significant ways. Among others, here are ideas on how you can be a part of this global event. The complete details of Peace Day initiatives are found on the official UN International Day of Peace website.
Minute of silence at 12 noon (all timezones)
Peace education events
Intercultural and interfaith dialogues
Workshops on the UN Peace Day theme
Meditation and prayer
Planting peace poles
Community gatherings
Vigils
Concerts and festivals
Soccer/football matches in the spirit of peace
Service to others
*Feasts for Peace
Writing peace poetry
Yoga
Marches, parades and flag ceremonies
Public programs with government officials
Engaging youth in peace-building activities.
Whichever initiative you choose, the UN requests everyone to pause at 12 noon, local time, to join in a Minute of Silence/Moment of Peace. Essay Writer is one with the UN and the world in celebrating International Day of Peace.