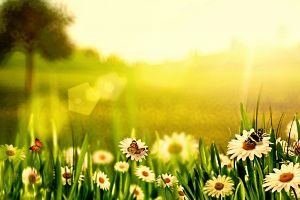 Today, 29th May, is the Spring Bank Holiday in the UK. Also called the Late May Bank Holiday, it falls on the last Monday of May. It is the second of the two May bank holidays, with Early May Bank Holiday being the first. How are you currently spending your three-day weekend?
Spring Bank Holiday Background
The Spring Bank Holiday is a national public holiday in the UK that started out as the Whit Monday. However, it was renamed and moved to the last Monday of May. The Banking and Financial Dealings Act 1971 made the move official after a trial period from 1965 to 1970. The move of the holiday was mainly accepted because Whit often transpired during summer term that interrupted exam schedules. Spring Bank Holiday was moved in 2012 to early June to provide a 4-day weekend for the Queen's Diamond Jubilee. Whit Monday or Pentecost Monday remains a public holiday in various countries.
Spring Bank Holiday Customs
Unbeknown to some, there are places in the UK that have preserved a few customs associated with this day. For instance, Endon in Staffordshire is the only place that continues the ancient practice of well-dressing on this day. Villagers also hold a fayre and crown a girl as the Well-Dressing Queen. Local men hold the Tossing the Sheaf, where they compete on who can toss a bundle of straw the highest.
Another Spring Bank Holiday-related custom is Cooper's Hill Cheese-rolling and Wake held at Cooper's Hill near Gloucester, England. A nine-pound round cheese is rolled down the concave hill that includes an incline of 1:1. Competitors would race after it and the first person to reach it wins the cheese. What used to be a local event has become well-attended by people from all over the world. It was even referred by The Guardian as a "world-famous event."
Customs related to Whit Monday still remain, especially the Whit walks. These are parades led by local brass bands and choirs, clergy, dignitaries, and local groups. The walks are often culminated by numerous fun activities such as Morris dancing, contests and food-filled gatherings.
We at Essay Writer would like to remind you to bring your rain gear this Spring Bank Holiday. Although it has been previously reported that the three-day weekend is the hottest in 170 years, recent forecasts say otherwise. Thunderstorms are expected today but don't let it spoil your fun by being prepared. Should you have any writing project related to Spring Bank Holiday or any topic, please feel to contact us. Our expert writers in various subjects are on stand by to write a high quality work based on your requirements. You may start filling out the order form and we shall get back to you as soon as possible.