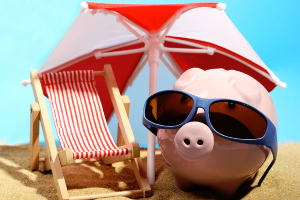 The last Monday of August, which falls on the 29th, marks the Summer Bank Holiday in England, Wales and Northern Ireland. On the other hand, Scotland had theirs on 1st August or the first Monday of this month.
Summer Bank Holiday Origin
The Summer Bank Holiday, also referred as the August Bank Holiday, prompts the end of summer and the beginning of autumn. This bank holiday has been first observed in 1871 to initially allow bank employees to attend cricket matches. In 1965, England, Wales and Northern Ireland went on an experimental phase to observe this at the end of August. This was to lengthen British holidays over a summer period. This trial period became permanent, while Scotland continued to observe it on the first Monday.
Busy Summer Bank Holiday
A lot of people choose to take short trips via land and air during this three-day weekend. More than 5 million people are expected to go traveling to savour the last drop of summer. UK officials predict an average of £1.3 billion in revenue for the economy as a result of this. Heathrow expects 440,000 outgoing passengers, while Gatwick expects 311,000 departing people.
About 5.1 million are planning to take overnight trips and 4.6 million choose to stay in England. The sunny weather forecast for the holiday urges people to head to the beach. London will be busy with their annual Notting Hill Carnival. Aside from its local spectators, it attracts about 2 million tourists and attendees per year. It used to cause a large amount of public disturbance cases. However, it has become a lot calmer in the past years.
Traffic authorities have gotten used to the fact that Summer Bank Holiday is a major travel time. Over 13 million people are expected to take the road this weekend. They warn those who use public transport to check schedules and leave early so their trips won't be delayed.
Network Rail has announced that a series of improvements will be carried out at the Waterloo Station. Most parts will be open; however, trains might not leave from their standard platforms. Rail repairs may seem unreasonable during a holiday but less than half use the train at this time. Authorities say repairs are done every day. However, larger upgrades happen during holidays when fewer passengers travel.
We at Essay Writer wish all UK students a peaceful long weekend this bank holiday. To prepare for the upcoming autumn term, please feel free to look into writing services. If you need help for an essay, dissertation, personal statement, CV/resume, or other writing projects, we will be happy to assist you.