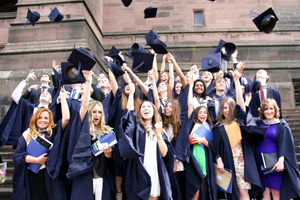 The season for winter graduation rites of unis and colleges in the UK is upon us. Graduating students, along with their family and friends are excited to celebrate this significant milestone. Graduation is the perfect opportunity for institutions to recognise the achievement and success of their students.
Attendance widely varies as universities have different sets of rules. Most unis allow graduates to decide if they attend the ceremony or not, while it is compulsory for other institutions. Some even allow graduates to attend rites several years after finishing their degrees. Students need to register if they wish to join their degree congregation rite. Bookings typically close 30 days before the ceremony date. On the other hand if students intend to graduate in absentia, they still need to inform their schools so their award certificates will be sent to them.
Because of modern technology, those who are unable to attend may watch live streaming or view photos online. Unis have found a way to reach out to their alumni by encouraging interaction on their social media accounts. Souvenir DVD's can also be purchased so students can look back on their special day.
UK Winter Graduation Dates
Here are winter graduation rites dates of some universities. Due to a high number of graduates and courses, ceremonies are held in numerous dates. They may take place in a span of three to five days, while others during consecutive weekends. Please make sure you check with the uni or college to ensure the accuracy of the schedules. Dates may change without prior notice.
University of Oxford – 4th, 5th and 12th November
University of Cambridge – 1st October, 22nd October, and 26th November
University of Edinburgh – 23rd, 24th, 28th, and 29th November
University of Manchester – 12th to 16th December
University of St. Andrews – 30th November and 1st December
Durham University – 12th and 13th January
Lancaster University – 14th December
University of Birmingham – 6th to 9th December
University of Liverpool – 7th and 8th December
University of Warwick – 18th to 20th January
University of Salford Manchester – 7th December
Queen Mary University of London- 5th to 7th December
University of Bradford – 30th November and 1st December
University of Sussex – 26th and 27th January
University of Hull – 19th and 20th January
University of Kent – 18th November
University of Westminster – 21 and 28th November
University of Reading – 8th and 9th December
Loughborough University London – 15th and 19th December
Kingston University London – 17th and 20th December
Ulster University – 20th and 21st December
University of Sheffield – 11th to 13th January
Keele University – 19th January
University of Dundee- 15th to 18th November
University of Leeds – 12th to 16th December
Are you hoping to graduate soon but you need assistance with some of your writing projects? Please check out the services that Essay Writer offers. Once you are ready to place an order, please fill out the order form with your exact requirements.