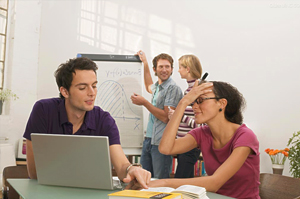 Do you need a hint? Okay, it is definitely not a robot. Keith Perry of The Telegraph called it an "IT system" and is foreseen to address students' need to have someone remind them about their paper's status, their deadlines, or missed exams.
The technology was named, "Exceptional Student Experience." It was developed by IBM and is currently at its toes for testing at the London South Bank University.
Where your tuition fees went
An IBM spokeswoman referred to the new system as a form of fee-driven value:
Since the introduction of tuition fees, students expect value from their investment, and learning that takes advantage of the most up-to-date technologies.
At this rate, the mystery of the skyrocketing fees is partially addressed. A technology, which in some ways resembles that of a virtual classroom, took the bulk of those fees. As elaborated by this spokeswoman, Exceptional Student Experience is guaranteed to empower students' "mobile access" to various 'applications, communities, and environments' that fosters educational support.
Upgrading the education system
The addition of a £14 million detection system, in the surface, shows how institutions have become seriously bent to measure students' academic performance. But on hindsight, this could also be interpreted as a continued obsession for metrics and measurements.
The integration of a new system inevitably highlighted the predominant view: that to revolutionise the education system, technology has to be shoved in the scene. This is supported by the institution's enthusiasm on its usage:
Students may expect an early heads-up based on their performance (i.e., odds of failing or passing).
The institution could pool in advance those students who are lagging in their academic performance and use this data to target remedies (i.e., support).
An online portal will soon come to help establish links among students and tutors, as well as, provide convenient access to relevant services (i.e., "internet, email, social networks and library").
Students' individual linkage to the system permits them to verify their academic performance per course through the system's built-in "predictive analytics."
The system's vision is simple: when it comes to students' academic performance, they can't be the last to know.
A virtual alternative
The London South Bank University will be seeing more of the "virtual campus." With the focus impaled on its benefits, the system might be consistently heralded to champion students and tutors. The institution's Pro Vice Chancellor, for instance, sees the system as an effective tool for conducting a "mild chivvying."
Professor Phil Cardew admitted that the institution lacked a "vibrant physical campus." Through the new system, he believes this lack may soon be addressed because the system will provide the opportunity to use a "virtual community" in lieu of a nonexistent physical one.
Early detection as a solution?
As reports of UK education's lagging academic performance against the world's institutions continue to pile up, pressure to catch up had jolted the system. The Department unleashed a series of education reforms and policies.
These measures have successfully placed pressure in the hands of many tutors and students. These pressure stirred lesser figures and strikes on the streets. The London South Bank University's answer is this new system, which could improve students' chances, according to the university's spokeswoman:
Likewise if they miss their first lecture, that would be identified. We wouldn't come down on them for just missing a lecture but if a pattern emerges with lectures being regularly missed, it helps identify a problem early so we can tackle it before it becomes a bigger issue that could affect a student's end of year exams."
The institution is looking at early detection and information drive (through access) as a means to support their students. The testing of the IBM's system will see through usage; it will soon opt to either support or refute the university's hypothesis.
Will it (i.e., Exceptional Student Experience system) help improve student performance or exacerbate existing issues?