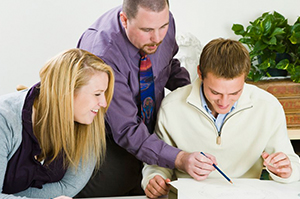 A new structure that will raise the status of vocational courses in sixth forms and colleges throughout England and make them "on a par" with A-levels, according to ministers was launched Monday.
The "technical baccalaureate" is taken from bundling together new and existing qualifications to create a measure schools can use to gauge performance. It can also be proof of credible skills that half of English school leavers may present to employers.
According to the Department for Education as mentioned in a Guardian report, the tech bacc is not considered in itself a qualification but a "mark of achievement by young people aged 16 to 19". It is intended to reinforce the value of technical and vocational training and qualifications that youths aged 16 to 19 may take.
Matthew Hancock, the skills minister who unveiled the new measure along with the education secretary said this mark of achievement is for students who successfully study three key elements – a rigorous high quality vocational course, maths and literacy. These qualifications can range from engineering to hairdressing, but will be taught at a level of difficulty meant to show that students are able to perform complex and non-routine skills comparable to A-levels.
Mr Hancock said the tech bacc would be "a first class alternative to the more traditional A-level route" for young people aspiring for a vocational career. Achieving this measure is most suited to young people working in jobs that require "significant theory and knowledge" as in construction, information technology, retail management, hospitality and creative industries.
The tech bacc will be included in school and college league tables from 2017. Its entry will significantly reduce the 4,000 courses currently counted in school and college league tables. Of the 320,000 students taking advanced vocational qualifications each year, a large number will qualify for the tech bacc, according to a spokesman.
The measure not only drew support from government ministers, but from teachers and the business sector as well.
Neil Carberry, the director for employment skills at CBI, the UK's top business lobbying organisation said it is a "big step in the right direction" and that businesses prefer this approach rather than a new qualification which will encounter difficulty in being recognised.
Christine Blower, head of the National Union of Teachers proposes that vocational qualifications be part of a wider integrated system of education with emphasis on the opportunity to study general education, specialist areas and vocational learning.
Do you think the tech bacc is a mark of achievement on a par with A-levels? Will it be significant enough to be presented as evidence of having achieved employer-friendly skills? Share your thoughts by leaving a comment below.