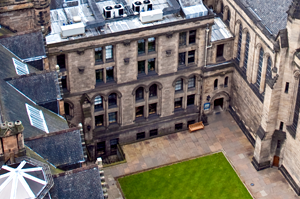 A breath of fresh air came from Scotland's largest city, Glasgow.  The recent education news has almost often been pegged as 'bad news.'  This time around, it's going to be about improvements, as well as, incremental steps that which made Glasgow's Higher Ed prospects brighter.
To start it, consider the following statement made by the manager who has worked with the city council's Employment and Skills Team, Mr Martin Collins:
We are now better than we have ever been at supporting these pupils when they leave school and as they progress.
What made him pronounce such in line to revealing the status of Glasgow's prospective Higher Ed entrants?  Three important things: (1) the recorded lowest unemployment rate; (2) increased positive destination figures; and (3) the transition from underperforming pupils to participating prospects.
Schemes that worked
It is clear that those results only materialised after a set of effective plans and implementations.  These schemes were targeted towards pupils coming from "deprived communities."
Linkages between universities and schools are in place. This has served to encourage pupils to apply for uni places, as it provides access to information, particularly about the application process.
Subsidies are allocated for pupils from "deprived communities." The funds come from the Scottish Government and are received by accommodating institutions.
Adding a specific function: monitoring pupil destinations.  This function has been awarded to the secondary school's senior staff member.  Good candidates are likely to become a subject of a "monthly case management meeting" through which their route to positive destinations and its consequent alignment to their skills are ascertained.
Mr Collins goes on to highlight the plight of those pupils who risk their chances of ending up in a positive destination, as they are associated to issues that involve "attendance, attainment, or behaviour."
These pupils will be referred to a central team who will identify what they like doing and what they are good at and then develop a programme of activity suited to them.
These students are, therefore, likely to attend extra sessions of "counselling, anger management treatment, lessons on personal finance or personal development training," as well as, receive aid in obtaining apprenticeship or Higher Ed options.
Results in figures
Those three major schemes have made a huge difference.  To highlight this progressive transition are the following figures:
31.4% of Glasgow's school-leavers took Higher Ed courses at universities or colleges.  Variable change had been "up two percentage points on the previous year."
27.4% of school-leavers are pursuing further education courses at colleges.  Yet, there has been a "slight decline in those entering training courses."
89% of school-leavers went to proceed for positive destinations.  Variable change had been "up one percentage point on the previous year."
And the record-breaking figure is…
9.5% unemployed.  This is the very first time that the recorded unemployed sunk from double to a single figure.  Furthermore, it is Glasgow's "lowest ever percentage recorded as unemployed."
This is not only good news; it showed that despite poverty levels in Scotland's city (or its effects to pupils and students) it is, nevertheless, possible.  The improvements reward not only the students, but also the hard working people behind it.
Do you think Glasgow's schemes can be applied at other cities?  Could these schemes be the ultimate fix for student access (of poor backgrounds) to universities?