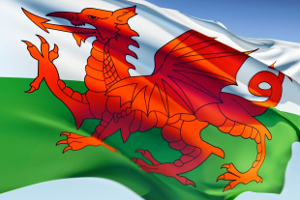 Be joyful, and keep your faith and your creed. Do the little things that you have seen me do and heard about. I will walk the path that our fathers have trod before us. –St. David
1st March marks the celebration of St. David's Day to hounour the official patron saint of Wales. Why is St. David regarded an important icon by the Welsh?
St. David's Day Origins
St. David, also known as Dewi Sant in Welsh, was born in Caerfai Pembrokshire, Wales around 520 AD. Some believe that he was the son of King Sanctus of Ceredigion and a nun named Nonnita. He studied in Cardiganshire, became a monk and founded a monastery. He went on pilgrimages to spread Christianity in Wales and England. He reached as far as Jerusalem where he became an archbishop. David had strict a Monastic Rule where he didn't allow material possessions. Monks needed to plough vegetables without using animals and would only have bread and water. Evenings must be spent in prayer, writing and reading.
Dewi is known for his miracles during his lifetime, which included the restoration of St. Paulinus' eyesight. The latter was his mentor while he was a young priest. Another miracle was when a dove landed on his shoulder and he made the earth rise beneath him. This happened while he was preaching at Synod of Brefi for everyone was able to hear him clearly. During a battle against the Saxons, he advised soldiers to wear leeks in their hats to distinguish comrades from enemies. This is the reason why leeks became an important emblem in Wales.
St. David died on 1st March 589. He was buried at St. David's Cathedral where his shrine was a famous place of pilgrimage. Over 60 churches in Wales was dedicated to him by the 12 Century.
St. David's Day Symbols and Celebrations
Although it is the National Day of the Welsh, St. David's Day is not a bank holiday. People celebrate this day with fun parties that include traditional Welsh songs and dances. Kids can be seen wearing the traditional costumes where boys wear white shirts paired with black trousers and waistcoat. Girls, on the other hand, don white blouses paired with woolen skirts or petticoats and finished off with tall hats. Adults wear daffodils and leeks to pay tribute to both Wales and the patron saint. Homes are filled with delicious cawl, Welsh rarebit, lamb, and Bara brith tea loaf.
Various lively parades with wonderful music, dancing and dragons transpire in Wales and areas with large populations of Welsh communities. The National St. David's Day Parade, the biggest spectacle on this day, takes place in Cardiff. This year, it starts at 12:30 pm at Cardiff City hall. It culminates with the national anthem at St. David's Hall. Parades at Llandud, Aberystwyth and Wrexham are also worth seeing.
Essay Writer wishes all our Welsh friends a Dydd Gŵyl Dewi Hapus!