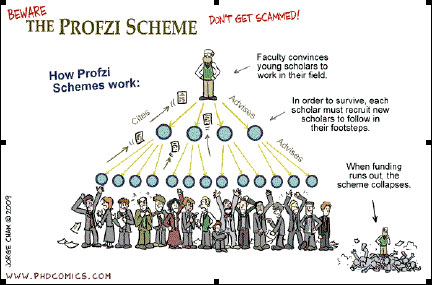 The Profzi Scheme is one iconic image from the "cult" PhD Comics. It was originally published in 9 March 2009. Way after this first publication, it has become a staple in post graduate circles. It is a satire likening postgraduate education to the fraudulent Ponzi scheme scam. PhD Comics illustration is very descriptive and although postgraduate education is not really a Ponzi Scheme, here is a backgrounder for all those who have not done specific research about from where the satire The Profzi Scheme was patterned — The Ponzi Scheme.
The Pyramid Scheme
A pyramid scheme is a scam involving a business model that is actually unsustainable. Prospective recruits are promised income but there are no products or services that could generate actual income. Prospects who are converted to members are made to pay joining fees and recruit more members. Its unsustainability is actually felt when members are no longer able to recruit, thereby no more cash comes in to be shared by the members.
Unsustainable (or Collapse of) Funding
The pyramid scheme starts with the recruitment of the first few members who pay joining fees. Then, they are made to recruit more members under their names and get joining fees from them. This step is repeated over and over. Thus, cash comes every time new members are recruited and joining fees are collected. The money is distributed among older members starting from the ones who recruited the newest members up to the oldest members and to the founders. And so, when members start to fail to recruit new members or when there are no more people to recruit, there is no more artificial income. Thus, the unsustainability occurs and the funding collapses.
Recent cases of pyramiding include the Madoff investment scandal in 2008 and the Aman Futures controversy in 2012. Pyramiding schemes have sprout out as early as the early 1900s. One earliest case is the Ponzi Scheme.
The Ponzi Scheme
A Ponzi scheme is a fraudulent investment operation in which the operating individual or organisation pays returns to its investors money from new capital paid by new investors to the operator instead of money from actual profit earned by the operator in the investment or his other assets. To be able to do this, the operator aggresively entice new investors by offering higher returns than other investments like short return periods even though it may appear abnormally high or unusually consistent.
Charles Ponzi and His "Edu(Va)cation"
The Ponzi scheme is named after Charles Ponzi, an Italian business man and con artist who operated in the United States and Canada. When asked by The New York Times, he said he was born to a well-to-do family in Italy. In his youth, he took a job as a postal worker and later became a student in the University of Rome La Sapienza. There, he usually followed around to bars, cafés and the opera his friends who considered university life as a "four-year vacation."
Ponzi's "Entry Level Jobs"
Ponzi arrived in Boston, USA, around the age of 21 with very little money because he gambled away his life savings during the voyage. However, he said that he has $1 million worth of hopes that he is never parting ways with. He worked worked in a restaurant from dishwasher up to waiter but was fired for shortchanging customers and theft.
At around age 25, he moved to Canada and worked as an assistant teller in an Italian bank in Canada, then bank manager. He learned that the owner, when the bank got into serious financial trouble because of bad real estate loans, paid interest to depositors using money from newly opened accounts. The banked closed and he became jobless.
Like a Student's Letter to Parent
While looking for jobs or busines opportunities, he walked in on the office of a former client of the bank he was working in. There was nobody around and he found a checkbook, so he wrote a check for himself and forged signatures. Police were suspicious with his large encashment and immediate large expenses, he admitted guilt and was imprisoned. And like a student writing a letter to his or her parents, he did not tell about this; instead, he said he got a job as a special assistant to a prison warden.
The Lie Became a True Lie
After his prison term in Canada, Ponzi went back to the US where his lies of working for a prison warden became a truth. He translated letters from gangster Ignazio "the Wolf" Lupo which was intercepted by the jail warden in Atlanta. However, he got this "job" as a detainee for getting caught being involved in a scheme to smuggle Italian illegal immigrants across the border. In this jail stint, he learned more from detainees mobster Lupo and Charles W. Morse who was a businessman and Wall Street Speculator who was imprisoned for violations of federal banking laws.
A Second Chance
After Ponzi's stint in the Atlanta jail, he went back to Boston where he met a stenographer to whom he proposed marriage. He did not disclose to her about being a many-time convict. However, his mother did it. Still, the lady agreed to become Ponzi's wife. It was this time when he got his second chance to do good in life. He was able to work in his father-in-law's grocery and other people's businesses.
Like a Business Idea of a Case Study Gone Wrong, or Bad or Good?
Along the way, he got the idea of selling advertising in a large business listing to be sent to various businesses. He started it but was not able to sell this idea to businesses and it closed shop. Later however, Ponzi got from a company in Spain an inquiry about his catalogue listing business. This is when he got the idea for what is now called a Ponzi Scheme.
With the Spanish company's inquiry letter came something Ponzi have not seen before — an international reply coupon. He asked about the coupon and found a weakness in the system with which he can take advantage of to earn money.
During that time, international reply coupons are enclosed by letter senders so that the recepient will use it to buy stamps for his or her reply letter. Ponzi was intrigued when he found out that the coupons can be bought at a lower price in Italy and exchanged for US stamps which had four times higher value and could be sold.
An Unconventional Model of Success
With the opportunity he found, Ponzi quit the translator job he had that time and borrowed money to send to relatives in Italy to buy postal coupons and send them to him. When he finally brought them for redemption, he was met with lots of red tape. This is when the real Ponzi scheme started.
Ponzi was not detered by the red tape problem. Instead, he approached many friends to invest in his enterprise, promising investment returns of 200% in 90 days with the great returns available from thepostal reply coupons as support for the incredibly easy profits. Ponzi was able to pay the returns to some of those who invested.
To promote his scheme, Ponzi started a company called the Securities Exchange Company. Investments rapidly came in and the company grew in workforce and finances. People mortgaged their homes and used their life savings to invest. Most of them did not withdraw their profits and added them to their investments. Ponzi lived luxuriously.
Suspicion Due to Unconventionality
The Boston Post questioned the feasibility of Ponzi's business. They contacted financial analyst and financial paper publisher Clarence Barron to examine the business. Barron observed that Ponzi made no investments to the business despite him saying that it generates great returns. He was also able to calculate that 160 million postal reply coupons would have to be in circulation so that the investments made with Ponzi's business will be covered but only about 27,000 were in actual circulation.
Further, the investments supposed to mean that should be bulk purchases made for postal reply coupons in the US and outside, but there was not one made in the US and outside. The difference between the per unit cost of the coupons and its selling price would result in a colossal gross profit in percent; however, the operational costs needed in facilitating its purchase and redemption would have been greater than the gross profit.
Barron's publication of the investigative paper triggered some investors to withdraw. Many still continued but the US Attorney for the District of Massachusetts commissioned Edwin Pride to audit the books of Ponzi's business. The audit was very difficult because the business' bookkeeping system only involves index cards with the names of investors.
The Collapse of the Funding
While such is on-going, Ponzi hired a publicity agent name William McMasters who instantly became suspicious because Ponzi always talked about postal reply coupons and the ongoing investigation. He even later said that he thinks Ponzi is a "financial idiot." McMasters found many highly incriminating documents that show Ponzi simply paid old investors with money invested by new investors. He told the Boston Post about what he found out and they published his article that exposed Ponzi's hopeless insolvency. Many investors withdrew.
To remedy the situation, Ponzi started a group of companies that would engage in bankingand import-export operations. Massachusetts Bank Commissioner Joseph Allen was concerned because if Ponzi's bank reserves get exhausted because of withdrawals by investors, it would adversely affect the banking system in Boston. Commissioner Allen kept an eye on Ponzi's banks and import-export businesses. He noticed that Ponzi was releasing loans to himself and it lead to his main account being almost overdrawn. There, he froze the operations of Ponzi's banks and other businesses.