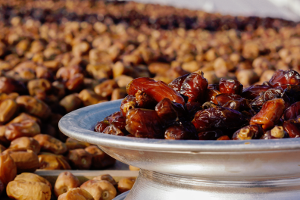 The month-long Ramadan ends on the next citing of the new moon predicted in the evening of 25th June. This officially starts Eid al-Fitr, which means festival of the breaking of the fast, also the start of the month of Shawwal.
How Eid al-Fitr is celebrated
Muslims, dressed in their finest clothes, begin their day with morning prayer at mosques on the day of Eid. It will then be followed by large gatherings with family and friends. Festivities last for three days, where people thank Allah for giving them strength and willpower during their spiritual fasting. Other ways to express thanksgiving is by donating money and food to the less fortunate. In addition, this day is also viewed as a time of forgiveness.
Most Muslim countries consider the three-festivities a public holiday. Other countries with Muslim citizens give at least a one-day holiday. Here in the UK, it is not considered as such. Offices and schools in areas with a high number of Muslim residents are considerate.  They provide shortened hours or a day off on Eid day.
Where to go during Eid al-Fitr in the UK
Don't know where to go in the UK during Eid al-Fitr? After going to the mosque for prayer, you can celebrate at these locations:
Eid in the Park 2017 – In Birmingham, this annual Eid celebration is arguably the biggest festivity in the UK and Europe with 80,000 expected guests. It will take place on 25th June at Small Heath Park. Organisers are inviting Muslim and non-Muslims "in carrying out a massive act of worship by praying in unity to Allah." Among others, there will be a bungee run, a bouncy castle, clay mini golf, pigeon shooting, and exotic animals. They will also have a bazaar with stalls selling food and drinks, clothes, crafts, and other items.
Eid in Excel – The festivities in Excel Centre, London will take place either on 25th or 26th June, depending on the moon sighting. About 4,000 people are expected to participate in prayer and celebration. Aside from the overflowing food and desserts, there will be fun fair for the kids and an Arabic-themed bazaar.
Eid in the Square – On its 12th year, it will take place in Trafalgar Square, London on 2nd July. As one of the largest Eid events in the UK, about 25,000 people are expected to attend. With celebrity appearances, kid's activities, Arabic arts, and delicious food and drinks, this event never fails to amaze.
Eid at Victoria Park, London – Tower Hamlets Council promises a special afternoon of halal food, cultural music and live music on 2nd July.
Eid Festival in Bradford Moor Park – This is known as the largest Eid celebration in the north happening between 1st and 2nd July. The highlights of the event include henna artists, face painting, and plenty of food bazaars.
Eid celebrations at Mumtaz Manchester – If you are in Manchester, head to Indian restaurant Mumtaz. For £19.95, enjoy a gala buffet and living cooking, as well as live Bolliwood perfomances from 26th to 28th June.
Chaand Raat celebration at Longsight Market – Still in Manchester, this free event happens on 24th June, which includes a late night shopping experience until 11:00pm.
May all our Muslim friends have a sacred, as well as a fun Eid al-Fitr. Eid Mubarak from us here at Essay Writer!