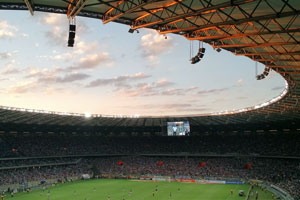 England will be headed to Russia for the 2018 FIFA World Cup thanks to Harry Kane's last-minute goal against Slovenia. The only goal of the night at the Wembley Stadium is Kane's 11th goal in 22 international appearances. This win enabled the Three Lions to reach four major tournaments in a row without losing a single qualifying match.
Less than Entertaining FIFA Qualifying Game
Before the goal in England's penultimate World Cup qualifier, the night was somehow turning into a drab. Fans at the Wembley started becoming unruly, throwing mockery and sarcasm. You can say that the crowd was not having fun so they created their own entertainment. Aside from booing during unfortunate plays of the home team, the people launched paper planes from the stands. Good thing the team was able to redeem itself and prevented an awkward finish. The game may have not set pulses racing but a win is a win and there is a good reason to celebrate!
England has announced that before competing for football's ultimate honour next year, it will host a number of warm-up matches. On 10th and 4th November, the Three Lions will be hosting current World Cup holders Germany and Brazil, respectively. The former, who has won the World Cup four times, beat England on their last visit. On the other hand, the latter dubbed as Canarinho (Little Canary) lost back in 2013 at Wembley.
Scotland's FIFA World Cup Dream
A late Martin Skrtel goal has kept Scotland's 2018 World Cup hopes alive! After getting over this challenging hurdle of beating Slovakia, all it takes is winning against Slovenia on Sunday, 8th October. Hoping to continue the momentum, Scotland will be facing their most significant match in the last decade. The team is currently in second place, with England being first, in Group F.
Unlike the England-Slovenia game, Hampden Park was loud and proud. The home team tried to secure a win against a Slovakian team that defeated them in their previous qualifiers. Scotland had an aggressive and impressive start but Slovakia refused to give up too soon. In the end, the hungrier team prevailed. Will Scotland reach their coveted World Cup dream? All we can do now is wait.