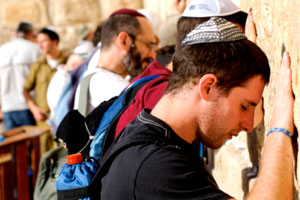 Spring break is over and as the term resumes, we would like to discuss a very important issue today. There has been a rise in targeting Jewish students in various UK university campuses within the past weeks. Anti-Sematic incidents include Holocaust denial leaflets, fascism stickers and swastikas engraved on walls. Academics and student representatives are urging universities to take immediate action because this issue has caused anxiety among students.
The Community for Security Trust, a British anti-Semitism monitoring agency, has released its latest annual report. It revealed that 41 cases were reported in 2016, compared to the tally of 21 in 2015. The stats show that anti-Semitism on campuses has been growing.
Anti-Semitism Incidents in Unis
Two swastikas were discovered at the University of Cambridge on a map and leaflet supporting David Irving, a Holocaust denier. Holocaust denial flyers were also distributed at the University College London. A "Rights for Whites" sign and a swastika were found at the University of Exeter. There were similar occurrences at the University of Edinburgh, University of Glasgow, and University of Sussex in the last month or so.
The Jewish Society released a statement and criticised these actions as they are a "trivialising of Jewish history." Baroness Ruth Deech has a made a call to "rise up and condemn" these acts on campuses. She is a Jewish crossbencher in the House of Lords and the first independent judge for higher education handling student complaints. As reported by the Guardian, she sees similarities to what is happening now and the time her parents were in university. They were also attacked because they were Jews at European unis before the Holocaust. "In the 1920s and 1930s discrimination against Jews started in German, Austrian and Polish universities, long before the second world war," she said. She added that the series of attacks today is a simply start that will eventually spread.
For Union of Jewish Students Campaigns Director Josh Nagli, the extent of the recent incidents is not of serious concern. However, the spate of incidents at campuses implies a level of coordination. While the number of reported incidents are relatively low, Universities UK believe that even one is too many. The organisation reminds students to be attentive in reporting anti-Semitism cases.
How about you? As a university student, what is your stand on this issue and what do you think should be done? If you require help in writing an essay about the recent anti-Semitism incidents, we will be happy to assist you. Please fill up the form so we can start processing your order.