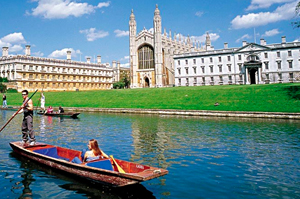 The international network of universities and colleges, Universitas 21, has ranked the UK as world number 10 when it comes to overall effectiveness of the higher education system. Topping the list are the United States, Sweden, Switzerland, Denmark, Finland and the Netherlands.
Excellence in research which is contributed by universities like Cambridge and Oxford was not able to propel the British group to the top. Individually, universities in the UK are among the top institutions of the world. These institutions best the competition in terms of producing the workforce which has the skills required by industry needs. However, in the aspect of funding from private and public sources, UK universities as a group lag behind the leaders in the top 10. British universities contribute only 0.6 per cent to the country's gross domestic product when the world average is 1.1 per cent. Contributions of universities in Portugal, Malaysia and Saudi Arabia to the GDPs of their respective countries are better.
In its study, Universitas 21 used 22 different measures in comparing 50 countries. The factors used include population size, assessed public and private investment, the impact of research, international connections, government policy and the number of adults with degree level qualifications. As expected, the brightest spot for the UK is in output measurement of research and production of graduates. The other side that kept the country behind is the aspect of resources where it made to only number 24. Universitas 21 conducted the study comparing 50 countries based on 22 different measures.
British universities put the country together with the world's top national higher education systems; however, there is a need for more funding so that it can keep with the progressing international scene, Birminghan University vice-principal Prof Michael Sheppard says. On the part of lecturers, according to University and College Union general secretary Sally Hunt, the education and qualifications provided by UK universities is the best in the world but the rest of the world is investing more on higher education while Britain spends less as shown by the report.
The study could point to a future wherein the UK might go down deeper in the ranking if the trend of other countries pouring in public and private funding to their higher education and the UK doing the opposite. What are your projections about what response will the concerned sectors make? Do you have comments on the criteria being used in the study and ranking? What are your insights on the contribution of education and research funding to a country's GDP?