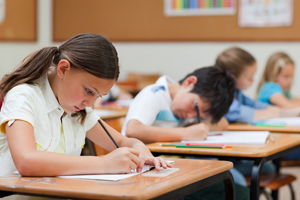 The education watchdog is set to publish two landmark reports next month to tackle important issues in secondary education.
This move is part of initiatives designed to prevent gifted children between the age of 11 and 16 from underperforming, following an Ofsted inquiry which found that state comprehensives were failing a lot of our brightest pupils.
The Ofsted analysis revealed that around one-in-five youngsters with top scores in English and maths at age 11 do not proceed to gain A* or A grades in their GCSEs at the close of secondary education.
The first report to be released in early June shows the findings of an investigation into whether the most academically gifted children are being held back from performing to their fullest ability by comprehensives that fail to push them enough to get top grades required by leading universities. Fifty comprehensives were subjected to investigation to see how they are supporting their brightest students.
Recommendations from the report will be made to government, schools and Ofsted for reforms. These measures include identifying bright children at the final year of primary school and tracking them through school. Comprehensives may be encouraged to tie up with private schools to coach pupils for university entrance test and interview. Schools could also be encouraged to stream youngsters instead of teaching them in mixed-ability groups. However, the report will not suggest universities to make lower offers at A-level to achievers from state schools.
Sir Michael Wilshaw, Ofsted's chief inspector, mentioned a "big issue for our country" that many students who excel at secondary school do not go on to achieve their full potential. He cites the fact that only four private schools and one sixth-form college are able to send youngsters to Oxbridge than a combined 2,000 state comprehensives. He has said in the past that he would like to see state school pupils contributing 75% of students being recruited to Oxbridge within 10 years. The present figure is 57%-63%.
Sir Wilshaw says: "Do we need more youngsters from the state system to get to universities? Yes, we do. And it should be one of the national targets to get more".
The second report addresses an inquiry into whether the gap exam results of the most underprivileged children compared to those from affluent families has closed in the last two decades, and how this can be further improved.
Do you think the measures above will ensure the brightest secondary school pupils go on to win places at elite universities? Do you have other ideas as to how the education system can support state school pupils? Let us know what you think by leaving a comment below.