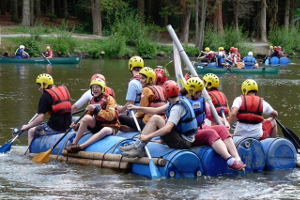 The National Citizen Service (NCS) offers a fantastic and productive way for teenagers to spend their autumn half-term break. Their programme offers one-of-a-kind experience that mixes up adventure, education and values formation.
What is NCS for Autumn Half Term?
NCS transpires three times a year during the summer break, autumn half-term break and autumn term time. The autumn half-term programme is specifically designed for 15 to 17 year olds, which will last around 11 days. Aside from helping with personal growth, it enhances experiences useful for their CV, personal statements, and UCAS forms. In fact, UCAS encourages students to include their NCS experience to their applications. It also allows them to attain skills valuable for work.
Since this is government funded, the fees are less than £50 or teens may request for financial assistance. Most of all, it unites individuals, businesses, schools, and community organisations, to build a better society.
NCS proudly works with some of the wonderful organisations across the UK. It seeks the help of charities, private sector partnerships, and College Associations and Voluntary, Community, Social Enterprise (VCSE). To ensure that the quality of the programme, NCS staff are well trained and activities are regularly quality assured.
NCS Activities for Autumn Half Term
According to NCS, the programme is divided into the following three parts:
Part 1 – Get Active
Participants get to develop confidence as they meet new people and build their outdoor or residential teams.
Part 2 – Get Involved
Teams work together to learn new skills in various fields like arts, sports, photography, music, enterprise, drama, and others.
Part 3 – Make Your Mark
Every team comes up with a product that they will pitch to local business leaders in the NCS Dragon's Den. These approved projects should be applied to the participants' local areas.
To accomplish the abovementioned parts, the programme has four phrases:
Phase 1 – Adventure

Who doesn't want an adventure? On the very first phase, it is about challenging oneself as participants will be living away from their homes. They will live with their teams in an outdoor activity centre and will do tasks together.

Phase 2 – Skills

This phase allows participants to discover something new. They will be in a uni-style environment with their group members to develop new values such as leadership, confidence and communication. They also get to meet significant people from various organisations and those in their community. These people will guide them in learning skills that would help them become better individuals.

Phase 3 – Social Action

All participants are expected to make a difference in their community through this experience. This is the time to apply everything they have learned and come up with a social action project.

Phase 4 – Graduation

The end of the NCS experience is the beginning of a better NCS involvement. NCS offers exclusive access to volunteering opportunities and apprenticeships. Members also get discounts and invitations to big events.
We at Essay Writer encourage teenagers to seize this amazing opportunity, which provides a lot of advantages. Complete helpful information on how to join can be found at the NCS website.