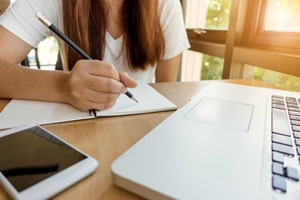 It is the time of year again when students fight tooth and nail to beat the UCAS final deadline. Incoming freshmen who wish to attend university this academic year 2017 have a few more hours to submit their applications. The final deadline for applications is on 20th September at 6 pm. Even though the autumn term has officially begun, you still have until 20th October to add your Clearing choices.
As much as we at Essay Writer encourage to make early submissions, each person has a different circumstance. Not everyone is a fulltime student who have time in their hands to focus on their uni applications. Allow us to provide some tips that would make your final push in securing a uni or college spot easier.
Submission Tips for UCAS Final Deadline
At this stage, your only option for a uni place is through Clearing. To be able to use this UCAS option, your application need to be submitted on or before the deadline. Here are some practical submission tips as you beat the UCAS final Deadline.
Calm down and compose yourself. This is definitely easier said than done but you don't want to blow this by being all over the place. Free your mind from other distractions. You have all the time to worry about them later after you have made your submission. Your focus should be on the task at hand.
Read, edit and edit some more. Presenting the best application to universities is very important especially when they are filling out the last spots. Make sure your documents have been proofread so ask someone to do it for you. After staring at your work for a long time, you won't notice the typographical errors and lacking information.
Aiming to make a compelling Personal Statement, which will make a difference in your application. With the huge number of applications, it allows you to create a good first impression to the institution. That being said, remember that while it is true that you need to get their attention, it is important to be truthful. Focus on providing useful personal info instead of embellishments you think will make it more attractive.
In using the Clearing function, list down the available courses online and contemplate if you are interested in them. Be assertive and proactive by personally calling up the institutions to show your interest. Prepare your questions and make sure that all the essential documents are within reach, especially your Personal Statement.
Essay Writer would like to wish you the best of luck in finding a university place. If you need help in creating an impressive Personal Statement, please do contact us. We will be happy to share our decades-worth of academic writing experience to help you succeed. You may fill out the order form to get started.