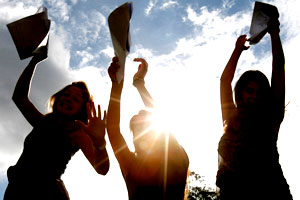 The long wait is over for thousands of teenagers in the UK because today is A-level results day. Whatever the outcome is, students from England, Whales and Northern Ireland need to decide how they will move forward.
Options After Receiving A-Level Results
This year's A-Level exam takers are the first group to go through the new curriculum. This is the reason why students have been warned of "greater volatility" in marks they will receive. However, experts say that the number of students obtaining top grades at A-Level this year is expected to rise. The reason behind this is that a higher percentage of pupils are focusing more on top-scoring subjects like maths. Maths has currently overtaken English in popularity.
On the other hand, students who would receive lower grades may look for opportunities through the UCAS Clearing system. It is natural to feel disappointed if grades do not live up to expectations. The good news is that the leading universities within the Russell Group have indicated that they have places through Clearing.
There are also good opportunities for those who do not plan to go to university through apprenticeships. There had been a 20% increase in two years to directly recruit students with A-levels. The Barclays and the Centre for Economics and Business Research has reported that apprenticeships after school provide higher lifetime earnings. This is compared to students going into graduate schools. In a study from the Social Market Foundation shows that vocational qualifications are gradually becoming the route to university. This is often combined with A-levels.
Advice for Students Related to A-Level Results
A social mobility charity is offering help for state school pupils to obtain personal advice related to their A-level results. MyBigCareer believes that everyone should have fair access to guidance in terms of options for uni places or apprenticeships. Founder Deborah Streatfield wants all pupils to experience the support private school students are currently experiencing. Independent schools are usually well resourced on results day. However, some pupils in state schools are not getting this same support. Pupils who have not received the expected grades tend to be too distressed to seek help.
The charity has already trained volunteer advisers from 10 institutions mostly in east London. They provide individual support to those who are making decisions after receiving their results, especially those who got lower grades. Advice to boost ambitions will also be given to those who particularly did better than expected. This is to fully maximize their opportunities.
Conversely, pupils may take advantage of the free exam results helpline funded by the Department for Education. They may call 0808 100 8000 if they need advice on how to move forward after obtaining their results. This helpline will be available from 8 am to 8 pm starting today and will remain open for two weeks.
According to Helpline adviser Nick Hynes ""Every year, there are students who don't get the grades they need for university." The career plans of these pupils will change because they did not make their original uni choices. The helpline would allow these students to have clear options and make informed decisions about their futures.