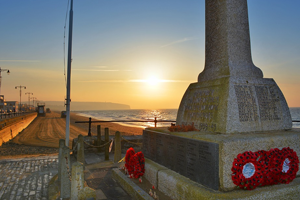 A two-minute silence will once again be offered on the 11th hour of the 11th day in the 11th month. Every child is taught in school the significance of paying tribute to those who fought for freedom. Through Remembrance Day, also referred as Armistice Day, we pay respects to all heroes who fought for freedom the UK and commonwealth countries are now enjoying.
On the other hand, Remembrance Sunday is held on the second Sunday of November, which falls on the 12th this year. The Queen, the members of the Royal family and the Parliament, along with the armed forces will be in attendance during the National Service of Remembrance at The Cenotaph in Whitehall, London.
The encounters during World War I ended at 11 am on 11th November 1918. At this time, King George V asked the public to observe silence for two minutes saying, "the thoughts of everyone may be concentrated on reverent remembrance of the glorious dead." With the signing of the Treaty of Versailles, it officially ended on 28th June 1919. However, this yearly commemoration honours everyone who has died in wars including World War II, the Gulf War, The Falklands War, and even recent ones like conflicts in Iraq and Afghanistan.
Ultimate Symbol of Remembrance Day
People will proudly display a red poppy on their clothes, which is considered the ultimate symbol of remembrance. For the last hundred years, we have been encouraged to do so to honour the sacrifices of past and present soldiers. It became a symbol for fallen heroes after John McCrae described the poppies growing out of the graves in his famous poem "In Flanders Field." The first line goes like this:
In Flanders fields the poppies blow
Between the crosses, row on row,
That mark our place; and in the sky
The larks, still bravely singing, fly
Scarce heard amid the guns below.
What is the correct way to wear a poppy? There is an ongoing debate on which side it should be as most people say it must be worn on the left side near to the heart. However, have you noticed that the Queen positions her poppy on her right side? Some argue that women traditionally are accustomed to placing theirs on the right side since this is the considered the correct way to wear a badge. For the British Royal Legion, there is no right or wrong side as long as it is worn with pride.
We at Essay Writer dedicate this post to our fallen war heroes. May we all remember to pause and dedicate a moment of silence to them this 11th of November. Students who are required to write an essay about Remembrance Day may avail of our academic services. Please feel free to contact us or fill out the order form to get started.