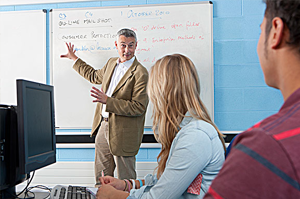 Possible and impossible are two words that prop when discussions veer close about measuring 'good teaching.' Concerns about the generous definition of 'good teaching' threaten to slam down any attempt to measure it at all.
Fortunately, research has helped settle the score. Times Higher Education's Graham Gibbs saw an end to this enduring debate. At the bottom-most part of his elaboration, Gibbs proffered this conclusion:
So it is possible to measure teaching both for individual teachers and for programmes, and it is possible to judge teaching for promotion decisions. Much of the usual criticism is justified, however, for the current teaching evaluation practices at many higher education institutions.
How did he come out with such positive suppositions?
Hint: Three
Gibbs divided the conquest for answers into three different questions.
Can you measure an individual academic's teaching performance?
Can you measure the quality of teaching across a whole degree programme?
Can you judge academics' teaching performance when making promotion decisions?
Under each section, the dynamics of involved variables are dissected and described. The ultimate goal is straightforward: to realise the possibility of assessing "the quality of university teaching in a useful way."
Measuring tools
Throughout Gibbs' treatise, two measuring tools have emerged. The first one was called Student Evaluation of Educational Quality or SEEQ. Developed by Herb Marsh of the University of Oxford, SEEQ is considered to be one of most 'well-developed questionnaires.'
This tool is able to provide indubitable links between teaching-aspects and outcomes (e.g., student marks). The second tool cited in Gibb's work was the National Survey of Student Engagement or NSSE. It was a questionnaire endemic in "US and Canadian institutions."
NSSE's popularity is largely attributed to the fact that such tool is diverse:
The tool could be used to "measure teaching"
It could help devise a "strategy to improve teaching"
Its measurement covers "engagement"
And it could help forecast "learning gains"
So, how does this whole NSSE-business work? Gibbs offered the following:
If you use the NSSE to identify teaching quality problems, and use the research evidence to select and adopt alternative approaches to teaching that are associated with better engagement, then student engagement improves and learning gains improve.