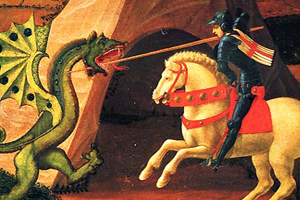 It is St George's Day once again. This National Day of England is celebrated by flying of the St George's Cross and re-enacting the saint's fighting a dragon, among other festivities. It is celebrated every 23 April, the date of the saint's death. This feast day is practiced around the world by various Christian Churches, peoples, countries and cities of which Saint George is the patron saint.
Here are the reasons behind these practices for those people who have not heard or read about it. For those who already know these accounts, let us review our thoughts.
Background
St George was born around AD 275 – 281 and died 23 April 303. Accounts have it that Roman Emperor Diocletian, to whom he protected as Roman army officer, sentenced him to die because he refused to denounce his faith in Christ. He was born in Lydda (now part of Israel) in Syria Palaestina, a territory of the Roman Empire. Other sources say that his birth place was Nicomedia (now part of Turkey) in Bithynia of the Roman Empire territory. These differing sources agree that he was raised at least partly in Lydda.
St George started as a soldier in the Roman army in his teen years after his parents' deaths. When he applied, he was immediately accepted by Emperor Diocletian because his father was an outstanding officer in the same imperial regiment.
Martyrdom
In the year 303, Galerius influenced Diocletian to execute Christians. He hated Christians and wanted to force the adoration of Roman gods. He tricked the emperor by destroying some Roman god altars and accusing the Christians of it. The emperor ordered St George to denounce his Christian faith but he refused and even proudly declared it.
Diocletian offered properties and greater territory to the saint in exchange of giving up his faith in Christ. St George did not accept and the emperor ordered his torture so that he will eventually. The saint did not give in and the emperor sentenced him to death. Witnessing St George's faith, Empress Alexandra and a pagan priest named Athanasius converted to Christianity. They too were executed.
St George's Cross
Saint George's Cross, or the Cross of Saint George, is a red cross on a white field. It was first used as the emblem of the Republic of Genoa, used for a long time by the crusaders, and adopted by England. It is now associated with St George, being known as a crusader from the late Middle Ages.
Unsubstantiated claims say that the red cross was brought to England as a worn emblem in the 1190s by Richard the Lionheart. Historically, it was introduced to England by the late 13th century to identify English soldiers from the early years (1270s) of the reign of Edward I. More so, it may have started years before this during the Second Baron's War. Chronicler William Rishanger cited Simon de Montford to have reported that it was his idea that soldiers be marked with a cross that the king carried out.
St George's cross is also a sign of the faith of this saint. He gave or made the sign of the cross before charging towards a dragon to fight it and finally kill it, as described below.
St George and the Dragon
A dragon is associated with St George and his feast day. According to tradition, St George killed a dragon. There was a place where people get the water they need from a river. A dragon was also there and, to fetch from the river, the people need to offer an animal sacrifice or a lady. Before it got worse, St George happened to pass by and helped the people fight the dragon. He offered to finally kill it if the people will believe in the goodness and power of Christ. They agreed and converted to Christianity. This event is said to be a depiction of the pagan practice of offering sacrifices to animal gods, here the dragon, and the evangelisation of the people into Christianity by St George.
Make Your Mark and Charge!
St George made the sign of the cross and fought the dragon. In our academic life, we also need to have faith in our capabilities and defeat our academic demons. To all you our students in Essay Writer, believe in your abilities and potential. Improve further and never give up. Achieve goal after goal! We are here to support and help you.