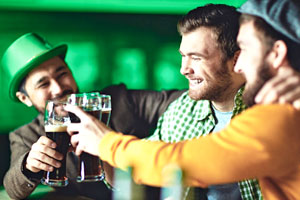 Prepare your green and Shamrock outfits and turn your festivity mode on to celebrate St. Patrick's Day today, 17th March. This religious and cultural celebration is observed worldwide, especially in Ireland, where St. Patrick is considered a patron saint. This is a bank holiday that people from Northern Ireland and Republic of Ireland look forward to every year.
St. Patrick, whose real name is Maewyn Succat, was a British-Roman missionary. He is regarded as the founder of Christianity in Ireland, a culture who practiced Celtic polytheism. When the saint was still a teen, Irish pirates kidnapped him and made him a slave in Ireland. He was able to escape after six years and returned home. He later on became a cleric, then a bishop. He was revered as the patron saint of Ireland in the seventh century.
St. Patrick's Day Symbols and Celebrations
The Shamrock is one of the most popular symbols as it is Ireland's national emblem. The name refers to the different kinds of three-leaf clovers found in Ireland. It is believed that St. Patrick used it to establish the doctrine of the Trinity: Father, Son and Holy Spirit. He explained that God is one entity with three persons just like the shamrock. It was only in the 19th century that green became the official colour of this special day. It used to be blue but the Emerald Isle that was green all-year-round became the inspiration. The Irish believe that these symbols would bring good luck.
Another related symbol is the Celtic Cross. An interesting fact is St. Patrick's way of successfully converting the Irish to Christianity. He was considerate of the people's old beliefs so he combined some of them and this is one example. For the cross to be more natural to them, the sun, a significant symbol was added.
The modern St. Patrick Day celebrations come from the influence of the Irish diaspora. They are incomplete without festive public parades where people dance to the beat of Irish traditional music called céilithe. The jovial parades began in the 18th century in North America and only became popular in Ireland in the 20th century. Before these public revelries, people only went to formal gatherings.
Two of the biggest St. Patrick's Day celebrations in Ireland are held in Dublin and Downpatrick. the latter is the place where the saint was buried. When you are in England, head to Birmingham as it holds the third biggest parade in the world.
Wishing you an Erin go Bragh from Essay Writer! May you all have fun and safe St. Patrick's Day celebrations! If you require assistance in any writing assignments, please do not hesitate to let us know. You may fill out the order form to get started.