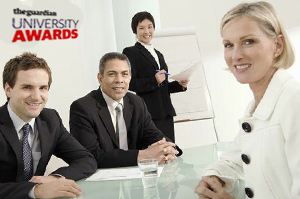 The Guardian University Awards aims to celebrate excellence, creativity, achievement and innovation across a range of categories. The awards will serve as a standard for excellence and endorse the ongoing projects of universities that will bring positive outcomes for higher education in the UK.
The areas being recognised range from teaching best practice and innovation to campus facilities. The awards are based on specific projects. It will reward institutions whose services or work have risen well above the expectations of its students, staff and other institutions. The nominations will come from Higher Education institutions, university departments, professionals in the UK sector, students and graduates.
The Inspiring Leader award will recognise a person who has shown inspirational leadership, vision and new approaches to working and engagement. It aims to give credit to a leader who was instrumental in bringing the best work in their team, resulting to exceptional and remarkable achievements despite the challenges being faced in Higher Education in the UK today.
The Guardian University Awards is sponsored by the Leadership Foundation for Higher Education, a company which provides a dedicated service of support and advice on leadership, governance and management for all the UK's universities and Higher Education colleges. It is open to all levels of leadership.
The award's sponsors are looking for leaders and managers "who have demonstrated innovative thinking, delivered real change and achieved a positive impact on outcomes." The award recognizes leadership in its broadest sense and is not focused solely on the individual receiving it. Below are the names shortlisted to receive the award:
Martin Bean, vice-chancellor, The Open University
Bob Cryan, vice chancellor, University of Huddersfield
John Dishman, director and chief executive, Coventry University College, Coventry University
Alison Johns, head of leadership governance and management at HEFCE
Tricia King, pro-vice-master for student experience and director of external relations, Birkbeck, University of London
Malcolm McVicar, vice-chancellor of the University of Central Lancashire
Mike Nicholson, director of undergraduate admissions and outreach, University of Oxford
Mary Stuart, vice-chancellor, University of Lincoln
All shortlisted entries are invited to attend the awards ceremony in central London. There will also be a dedicated site for the University Awards Ideas Bank, featuring the shortlisted entries as case studies.