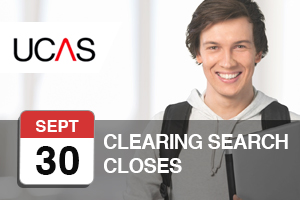 The UCAS Clearing search option will be removed from the system on 30th September. Those who wish to apply through Clearing will need to directly contact universities to enquire about . You may have your personal reasons or setbacks why you still find yourself without a uni place. However, get going and see which universities are offering the courses you are interested in. The best thing to do is to call them up immediately. If you could not do the call now, list them down so you won't have to contact every institution and waste time. Just remember that unis accept students every minute so the vacancies on your list may have already been filled.
How to Use UCAS Clearing
Vacancies may be removed from the UCAS system but the last day to add Clearing choices is on 30th October. This means that you will still be able to make use of the Clearing option. Nonetheless, waste no time since spots are rapidly taken as the deadline comes near. If you obtained reasonable results and you are open to any subject or location, there is a place for you. You need to be confident and open-minded if you are determined to enroll this academic year.
Register and fill out a Clearing application form as you would normally do. Include a striking yet truthful personal statement. After submitting your application, you will receive an email that would allow you to access Track. You will then receive your Clearing number. Call up the unis and colleges to know if they have a place for you. After receiving a verbal offer, you can now add the course in Track.
When you add your choice, fill in the details by the date mentioned during your call. Remember that adding a Clearing choice signifies you accept the offer. If you are still unsure because you feel like there are other options, do not do this step yet. You may only add one choice at a time. If the institution does not confirm your place, you will be allowed to add another choice. Once the uni or college confirms, this means that you have been officially accepted, which will be shown in Track. UCAS will then send you a confirmation letter.
Tips in Directly Calling Unis for UCAS Clearing
Before calling up a uni, make sure that you are prepared. Start by having your ID and Clearing numbers ready, as well as a copy of your Personal Statement. Also prepare notes that would somehow help you answer possible questions. On the other hand, having constructive questions ready will also be a plus since it will show your genuine interest.
Getting a place at this time can be tougher since most unis are filling up their final spots. During your actual call, be courteous and assertive. Do not let your nerves get in the way of attending university this year. Just let admissions tutors feel that you are a good a candidate for their institution by being enthusiastic and honest. Be proud of your achievements but avoid sounding cocky or arrogant.
We at Essay Writer wish you the very best in getting a uni spot for academic year 2016. If you need professional writing services in the future, please feel free to contact us. We will be happy to assist you with your essays, reports, courseworks, dissertations, and other writing assignments.