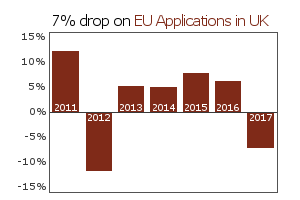 Today, 24th March is the UCAS deadline for some art and design applications for academic year 2017-2018. All applications must be submitted on or before 6 pm. In other UCAS-related news, the organisation recently released data regarding the number of applications for the upcoming school year. It shows a 7 percent drop on European Union student applications in UK universities. The overall applications to higher education in the country have also fallen by a total of 5 percent.
Implications of the UCAS Report
UK Universities, including the University of Cambridge, believe that the decline was caused by the Brexit vote last year. However, EU students applying for 2017 entry still have access to the country's public-supported payment loans schemes. This will be effective for the duration of their courses.
The latest figures of the Higher Education Statistics Agency show that EU student applications to Cambridge plunged by 14 percent. Top academics warned MPs during a parliamentary select committee at Pembroke College, Oxford. They believe that Brexit is the "biggest disaster" in higher academics in the last few years. In fact, between 2014 and 2015, EU student applications rose by 7.4 percent. It was followed by another increase of 6 percent between 2015 and 2016.
NUS Vice President Sorana Vieru thinks the decline in EU student applications should be considered a warning. According to her, people may have deemed higher education in the UK a less attractive option than last year. She added that the prime minister's use of EU students as bargaining chips in the Brexit is unacceptable. She stated: "To help reverse this worrying decline, she must take international students out of net migration figures."
Universities UK Chief Executive Nicola Dandridge cited the UK's declining position in higher education competitiveness. There are concerns that the country's loss is the gain of competitor countries, specifically those in the EU.
For more education news and other UCAS-related updates, feel free to visit our blog section. On the other hand, if you require academic writing assistance, browse through our services so you can be guided accordingly.