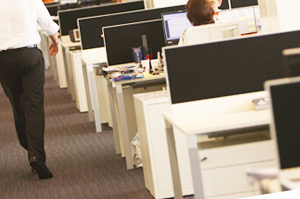 Unemployment in the UK has registered a drop of 82,000 to 2.51 million between August to October, according to official figures from the Office of National Statistics. It reflected the largest quarterly drop in unemployment statistics since 2001. Employment also rose 40,000 to 29.6 million, the highest figure registered since data began to be recorded in 1971.
This was due to the strong growth of jobs in the private sector that offset the loss of jobs in the public sector. Employment in the private sector went up by 65,000 while employment in the public sector went down by 24,000.
Scotland had the biggest fall in employment amongst regions, while the biggest rise was in Yorkshire and the Humber.
Claimants of jobseeker's allowance, an alternative measure of unemployment, also dropped 3,000 to register 1.58 million for November.
However, the latest official data also showed that wages had not kept in step with inflation. Earnings outside of bonuses were rising at a rate of 1.8 per cent year-on-year, not enough to match the current inflation rate of 2.7 per cent. The Bank of England's chief economist Spencer Dale attributes this to the fact that the UK is still adjusting to the effects of the financial crisis.
Despite the general weakness of the current financial climate, UK economist Ross Walker points to the flexibility of the workforce as part of the reason why unemployment has not been higher given the circumstances. Employment minister Mark Hoban was encouraged particularly by youth unemployment falling 90,000, its lowest level in three and a half years.