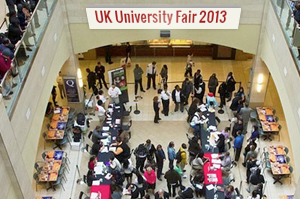 The largest university fair in the UK is happening on Saturday 9th March 12:00-17:00 at Earl's Court London. Close to 80 UK universities will be represented at the fair to meet and recruit potential students, particularly international students.
Interested students can enquire about their preferred university, which courses are available and are most suited for them. Seminars and presentations on various issues will also be conducted at the venue. These include advice on how to apply as an international student, insights on popular and on-demand courses at highly ranked universities in the UK and information regarding fees.
Amongst the top universities expected to be in attendance and present seminars are Oxford, Cambridge, Imperial College London and King's College London. The fair is organised by the SI-UK Education Council, a global student recruitment agency providing independent guidance to international students who wish to apply to UK universities.
Students should come prepared not only to ask questions but to impress recruiters enough to be given available offers on the spot. University entrants should also take advantage of scholarships and grants on offer at the fair. Over 100 scholarships can be given to students attending, issued by UK universities for students who applied through SI-UK Education Council.
Students can also avail of immigration advice from a UK Visa specialist recognised by the United Kingdom Border Agency (UKBA). Students who visit SI-UK Education Council before the fair can also avail of free consultation with a list of recommended universities to check on the day of the fair.
Interested students may register online through http://www.ukunifair.co.uk/register for free entry to the fair, while on-site admission is £5. Since the fair is primarily intended for international students, attendees will be required to show proof of nationality such as a passport, visa or ID card upon entrance. British students will pay an entrance fee of £10.