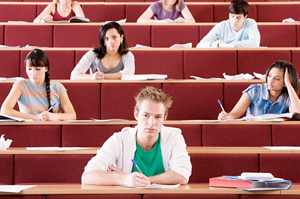 Britain's economics teaching is facing change. In the midst of critics' attacks, the consideration for revising the syllabus and the way of teaching economics has been taken a further notch. Leading the overhaul is University of College London's Wendy Carlin.
This big change is conducted in partnership with the Institute for New Economic Thinking (New York) and the Azim Premji University (Bangalore) – the latter specifically providing technical support for the syllabus' revamping. Prospective universities who might join this project's bandwagon consist of Warwick and Sydney.
Chain of events
But which event brought the overhaul? In truth, it wasn't brought by an event, but by a series of events. The first in this chain had been the 2008 crash. Who could forget the spiral-down and domino effect it had among the world's power nations?
It had brought both US and Europe nations into its knees. The plummet had helped in bringing about emerging markets from Asia and Australia; whilst it brought some countries deeper than surface soil (ie, Greece and Spain).
And while it's natural for everyone to work towards recovery, the bigger population wanted answers. Take for one, the Queen's famous question: "Why did nobody notice it?" As more economists and non-economists sought for answers, a particular conference came into being. This event had been entitled: 'Are Economics Graduates Fit for Purpose.'
The conference didn't restrict its effects within its venue. Rather, it inspired the University of Manchester's economics students. And without further ado, the Post-crash Economics Society has been born. This society's primary objective is to push for their economic syllabus reformation.
Again, the externality had not been contained; other institutions and economics departments began to consider its overhaul.
The subject of inclusion
In general, the existing economics education has been blamed for continuously using out-of-date theories. These theories had been a great mismatch for today's real-life economic activities. Manchester's students, in specific, pointed out the specific culprit: the exclusion of other schools of thoughts and the sole reliance to 'neoclassical economics.'
The neoclassical theory had been the dominant school of thought or oft-referred to as 'mainstream economics.' And it's not really surprising why this seemed to be the favourite; according to The Guardian's Phillip Inman: "it (neoclassical economics' mathematical modelling) supports candidates who want to make a career in banking and finance."
Hence, the overhaul called for the inclusion of more schools of thoughts, like the Post Keynesian school. Boston College's Juliet Schor also recommended the integration of environmental economics: "We should include environmental and carbon footprint accounting alongside GDP."
Fire or just a spark
The overhaul, of course, is not without detractors, nor does it fail to incite cynical interest. For instance, these folks bring into attention the lack of participation among larger institutions. This is not exactly true, as "Societies at Cambridge, UCL and LSE have been founded to highlight similar issues…"
Indubitably, this recognition that spurred among students is a good indication of change. This implicates the desired aversion for the crash's repeat or undetected move against nations.
Are you optimistic about the long-term results of this economic education's overhaul?