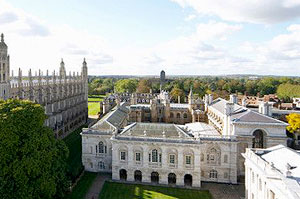 Taking up further education, particularly, MBA is associated with investment, better management, and higher decision-making skills.  Apart from having an additional title to sit across one's name, a Master's in Business Administration programme invariably links its student with a more vast set of opportunities.
In choosing the programme and institution, prospective students often consider available rankings provided by a focused organisation.  Take for instance, the recent rankings from the QS Global 200 Business Schools report.
UK's Pride: the Top Business Schools
The report showcased a menagerie of institutions that offered the best MBA programmes across the European continent.  The list allows any observer not just to make a final decision, but pinpoint business schools that unwaveringly represent its country.
Some dominating countries include France, Spain, Italy, Switzerland, and the UK.  The latter's representing institutions are compiled and presented below:
Ashridge Business School

The Ashridge Business School provides two programme choices: one is a full-time MBA; another is its two-year part-time Executive MBA programme.  The business school ranked 35th against its European contemporaries and accrued an average GMAT score of 573.

Ashridge prides itself for its focus on the following aspects: "practical application, small group learning, and high interaction with real organisations."

Henley Business School

The Henley Business School enjoys its 65 years of establishment and has since extended its network of offices that fare as far as Finland, Germany, South Africa, and Hong Kong.  This business school's figures consisted of a European ranking of 32 and an average GMAT score of 500.

University of Edinburgh Business School

The University of Edinburgh Business School placed 29th against other European business schools.  It has successfully gone ahead the competition with an average GMAT score of 586.

Manchester Business School, the University of Manchester

The Manchester Business School facilitates interaction between students and clients over a period of six months.  This arrangement helps the business school ensure that its students are able "to put theory into practice in real world environments."

Based on the recent QS Global ranking, Manchester Business School is at the 26th place and has, in fact, garnered 625 points for its average GMAT score.

Warwick Business School, the University of Warwick

The Warwick Business School produced a full-time MBA programme particularly built on "behavioural science and creativity."  This design is likely to have contributed to its relatively high European rank of 19, plus an average GMAT score of 640.

Cranfield School of Management, Cranfield University

The Cranfield School of Management is one of the first institutions in UK to have proffered the MBA programme.  Its 40 years of experience is indubitably attributable to its prevalent European ranking of 16 and its average GMAT score of 650.

Imperial College Business School, Imperial College London

The Imperial College Business School epitomised dynamism through its four varied programme formats.  These consisted of a "full-time, executive (weekday or weekend), and a new online course" for the oncoming academic year, 2015.  The institution has successfully pooled 660 points for its average GMAT score and maintains a European ranking at 14th place.

Cambridge Judge Business School, University of Cambridge

This business school comes strong with an average GMAT score of 680 and European ranking of 13.  It also proffers access to "practical projects with real clients" allowing MBA students to truly immerse.

Said Business School, University of Oxford

The Said Business School comprised of three MBA formats.  There is the standard MBA programme, then the Executive MBA, and the 1+1 MBA programme – the +1 referring to a "one-year Msc."  It currently holds the number 2 spot against all other UK business schools in the QS Global rankings.

London Business School

And the winning top UK business school, which ranked second in the QS Global ranking, is the London Business School.  It has an accrued average GMAT score of 698 and ranks behind France's INSEAD.
Such ranking information is naturally paired with the usual variables: information in brochures, university website, or from colleagues; and personal elements, like location, budget, schedule, culture, research, and programme design.
Do these rankings provide a positive symptom of recuperation in terms of UK's research and academic health?
Could these rankings offset the declining numbers of representing UK institutions in higher education rankings?