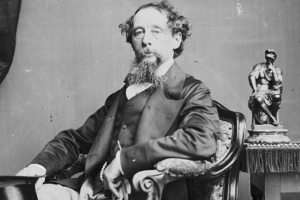 "I never could have done what I have done without the habits of punctuality, order, and diligence, without the determination to concentrate myself on one subject at a time."
– Charles Dickens
British writer and critic Charles Dickens is celebrating his birthday today, 7th February. Born in 1812, he is regarded as the best novelist in the Victorian era. He is best known for his classic works that he released in weekly or monthly parts, as serials. Some of them are Great Expectations, Oliver Twist, A Christmas Carol, Nicholas Nickleby, A Tale of Two Cities, and David Copperfield. They continue to be adapted for the stage, television series and films until this day. His final novel The Mystery of Edwin Drood was left unfinished because he died of a stroke on 9th June 1870.
Life and Works of Charles Dickens
Life did not come easy for Dickens, who was born in a poor family. He went through difficult times when he was a child. He was forced to stop school and work at a boot-blacking business when his father was sent to prison. This experience led him to feel betrayed and abandoned by adults because he felt like his youthful innocence was lost. These thoughts later on became the common theme of his novels. He was eventually able to go back to school when his father paid off his debts. However, he had to stop again and worked as an office boy, which presented an opportunity to start writing. He became a freelance reporter at the London law courts and then reported for two newspapers.
In 1833, he started submitting sketches to newspapers and magazines using the pseudonym Boz. Three years later, his clippings were compiled in his first published book Sketches by Boz. On the same year, he published The Posthumous Papers of the Pickwick Club, a series of sketches he released in monthly installments. They were initially written as captions for artist Robert Seymour's comical sports-themed drawings. It was well-received and even surpassed the popularity of Seymour's original illustrations.
He released his first novel Oliver Twist, inspired by his impoverished childhood from 1837-1839 in the magazines he edited. It captured the hearts of readers in England and America, all eager to wait for the next installment. He struggled to exceed the success of his first novel but continued writing. He toured the United States and was deemed as a celebrity. He created 8th novel David Copperield, a first of its kind that followed the daily life of the character. This may not be his best work but this was his personal favorite. It had many autobiographical elements, including his pains as a child and job as a writer. It also included the values it took for him to be successful.
What is your favorite Dickens book? If you have not taken time to read his works, go to your nearest bookshop and purchase one. They are always readily available and have never actually gone out of print. If you need assistance in you writing project about Charles Dickens or his notable works, please do contact us. We will be happy to help you create a high quality piece of work. Please fill out the order form to get started.